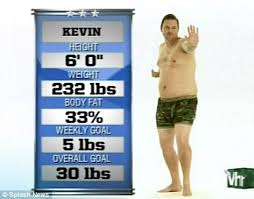 Poor Kevin Federline. The ex-husband of pop superstar Britney Spears has been a punching bag of sort over the years by the general public. Whether it be for his failed rapping career or other questionable antics, he has only had to fend off attacks from humans thus far. Well that changed recently as the D-lister was attacked by dogs in front of millions of television viewers.
Fortunately for Kevin, it's not as bad as it sounds. The dogs were muzzled and props in a recent episode of Celebrity Fit Club on VH1. In an activity designed to get Federline to shed a few pounds, he was put in an obstacle course. If K-Fed was able to reach the gate in time, he could have locked the dogs in and avoided the encounter. Unfortunately, the gate wasn't locked in time and a terrified Federline cowered in the corner as the dogs jumped at him with not-so-friendly growls.
This isn't K-Feds first negative encounter with dogs. Back in 2005 when he was married to Spears, the pop star's Chihuahua Lucky refused to play nice around Kevin and Britney was forced to give the dog to her assistant (in hindsight, she was probably better off with Lucky).
https://phetched.com/wp-content/uploads/2019/03/download.jpg
199
254
Mark
https://phetched.com/wp-content/uploads/2019/03/new-logo-purple2-300x187.png
Mark
2009-12-11 17:38:32
2019-11-04 20:37:19
Even Dogs Don't Like Kevin Federline