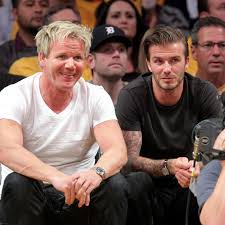 International soccer superstar David Beckham must have been a good boy in 2009 as he received a $3200 English bulldog for Christmas from his almost equally famous wife Victoria Beckham. But being a man who travels the globe on a regular basis, David realized he just didn't have the time to be a good owner for his new pal. So what does any self-respecting celebrity do? He gives it away to his good pal Gordon Ramsay.
Now we've seen Hell's Kitchen a few times, so we're not quite sure what Coco (an interesting name for a bulldog I must say) has in store for him. Although it seems that the biggest grouches in the real world turn out to be sensitive slobs when it comes to their pets at home. One thing is for certain though, this dog is probably going to eat much better than the rest of us do.
Coco does have quite the history of pampering in his short life. The LA Galaxy star reportedly flew him back on the famous Pet Airways. The Gold Standard service runs around $3,300 and comes complete with wooden travel container that includes bedding and water, a pre-trip medical exam, and close supervision from a Vet.
Beckham isn't opposed to keeping any dogs though. He's got two rottweilers named Puff and Snoop after the famous rappers.
https://phetched.com/wp-content/uploads/2019/03/download-1.jpg
225
225
Mark
https://phetched.com/wp-content/uploads/2019/03/new-logo-purple2-300x187.png
Mark
2010-01-12 18:17:12
2019-11-04 20:37:19
David Beckham Gifts New Puppy to Gordan Ramsey