Businesses understand the affection many customers have toward their pets. And because of that, they've implemented ways to give back to the community when you shop with them. Below are a few places you can spend your money and reward a dog charity at the same time.
Vans
The retail apparel company known for their skateboarding shoes has teamed with the ASPCA to put together a line of pet friendly items. They range from shoes to t-shirts and more. Not only does Vans donate a portion of the sale to the ASPCA, but it's a unique way to promote a great cause.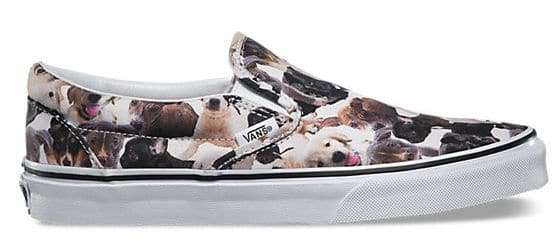 Ben & Jerry's
The famous ice cream company from Vermont has always been animal-friendly. Pets roam their corporate offices and they donate to a number of charities. But their "free cone day" event happens to be a way to promote the adoption of dogs. Ice cream and dogs are a perfect mix.
AmazonSmile
I've written in the past about my love of the AmazonSmile program. Since we're all buying a ton of stuff at Amazon anyways, why not have a small percent go toward a favorite dog charity? The beauty of AmazonSmile is its really easy for any organization to sign up and benefit from. So you don't just have to pick a large charity, you can find a local shelter that needs the extra money more.
Shirts for a Cause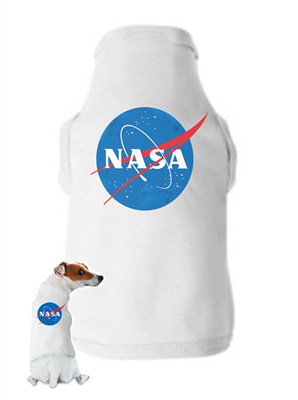 A great site that donates a portion of the sales to respective charities. For instance, these dog t shirts that support rescues would look great on any pet. Especially the NASA one off to the right. You're sure to get some comments at the dog park with that. They've already donated hundreds to Tao Animal Rescue.
Purina
If you've seen their commercials over the years, you know the large pet food manufacturer boasts about their charitable donations. In 2018, the company donated $32 million. They went to a number of local rescues and the PetFinder Foundation. Plus they recently began an initiative to train service dogs to help veterans dealing with PTSD.
PetFinder
Speaking of PetFinder, the site that matches pets up with new owners runs the PetFinder Foundation. They use part of their revenues to help support getting animals out of rescues and into forever homes. They also help out in areas where disasters such as hurricanes, floods, and tornadoes have hit.
Fetch Eyewear
Have you ever heard of a company that donates 100% of their profits to charity? Well these folks do. The company which makes stylish eyewear donates all their money to the Pixie Product. This charity helps with the adoption of pets from animal shelters.
I Heart Dogs
This company sells all sorts of apparel, accessories, and even home goods with a dog-centric theme. As dog lovers, they donate a percent of their proceeds to feeding animals at shelters. They have a really neat tool that will tell you exactly how much food your purchase contributed to an animal shelter.
LUSH
The company sells a "Charity Pot" hand and body lotion. 100% of the proceeds of this item goes toward charities that support animal rights causes locally and around the world. Plus the stuff gets some good reviews.
Subaru
The Subaru "Share the Love Event" is a chance for the company to mix selling cars with adopting dogs. Their commercials heavily promote dogs and they've donated over $60 million to charitable causes over the years. So if you can't decide on a car, maybe give the edge to Subaru for what they have been doing.
Dog for Dog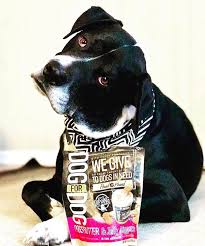 This pet food maker has a simple deal with their customers. You buy a bag of their dog food, they'll donate a bag of their dog food. They have all sorts of unique, healthy options for your pet. And the peanut butter they sell for dogs is a huge favorite with my pup.
Natural Balance
This company makes dog food with limited ingredients. The goal being less additives and preservatives that could be bad for your dog. They also have a unique way of helping out dogs too. Send in your UPC for a rebate that goes directly to an animal shelter you choose.
Bissell
Dealing with fur is a pain and most of us have had to throw some money at a vacuum or carpet cleaner to deal with the mess. Well if you've purchased one of the many Bissell options on the market, they donate a portion to their own Bissell Pet Foundation. This group helps find homes for pups around the country.
If you fall in love with a product or have a particular need, choosing a business that supports dogs is a win-win. Not only do you get something you want, you support a business that is willing to give back to the community. But as Consumer Reports points out, you shouldn't base your entire purchase on this.
Now I'm certainly missing some, so please feel free to leave your favorite business that supports dogs in the comments below.
https://phetched.com/wp-content/uploads/2019/09/pet-charity.jpg
619
900
Phetched
https://phetched.com/wp-content/uploads/2019/03/new-logo-purple2-300x187.png
Phetched
2019-09-02 04:19:00
2019-11-04 20:35:58
Helping Dogs While Shopping