On occasion I head over to Reddit and look for information or the viral videos. But one subreddit has caught my attention and become valuable. It's the /r/buyitforlife sub which features people discussing products in our lives that we can purchase once and not have to worry about it. A unique concept in a culture of cheap, disposable products.
Over the years I've found socks (Darn Tough) and cooking gear (All-Clad) that not only withstand everything you throw at it, but come with lifetime guarantees. But also started seeing posts by pet owners. Much of the gear you find at your local big box pet store is cheaply made and not built to last more than a year (if that). That comes with frustration and a desire to upgrade.
Safety Comes First
There aren't a lot of negatives to come up with when buying higher quality products. Sure you can argue that the price is higher, but if you're not replacing the item every year, you're probably saving money in the long run.
Then there's the most important reason; safety. Do you want a cheap leash to break at the wrong time and have your pet run out into traffic? Or apparel that uses cheap dye that ends up irritating your dog's skin. There's a lot of horror stories online of accidents involving dogs because a toy or accessory was not built to handle the stress.
Extreme Dog Gear
Collars, leads, and harnesses are particularly tough to judge when it comes to quality. I've found that big stores like PetSmart carry lower quality products to keep prices low. And higher end boutiques are selling a design and brand name more than actual quality.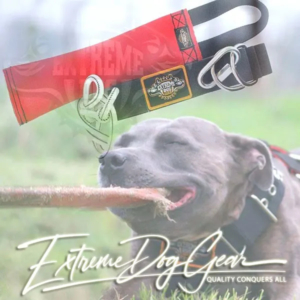 As the name suggests, Extreme Dog Gear makes products that are built to handle a more extreme lifestyle. Their products are used not only by sport dogs, but working dogs in the military and police. When a police K9 is in a life and death situation, you need the absolute highest quality gear. They've been tested to handle up to 5000 pounds of force. So if it's good enough for those extreme situations, it's going to be able to handle whatever your dog throws at it.
Their tough dog collars look amazing, especially if you have a large dog. My friend who has a 150 pound Akita (yes that's insane!) struggles to find thick quality collars. There just aren't a lot of companies that care about that market. But Extreme Dog Gear carries handmade heavy-duty collars up to 2 inches in width.
But one of the coolest aspects of their products is they look good. Usually when you think of "tough dog products", you're assuming it'll be a drab gray or brown. But they have a wide array of attractive colors and can even personalize them. What a great gift for someone.
Their products can be found worldwide at various retail stores. The company is based out of the Netherlands and has incredible reviews online. Just look at all the people that leave praise on their Facebook page. Perfect for those with large, strong dog breeds. Or those like myself who just wants to keep my dog safe and have a product that will last their lifetime.
Kong
You probably already know the name if you've got a dog who tears up toys in minutes. Cheap toys become choking hazards. So if you have a strong chewer, don't skimp on the toy. I'm reminded of the tragic story of Oprah's dog.
Kong labels themselves as "indestructible". They mostly are. Vets and trainers praise their products and they can be great for training. For instance, their Kong Puppy toy teaches dogs how to chew properly. I throw some peanut butter in mine and watch my dog chew away for hours. You're better off splurging for one of these than parading an endless amount of cheap dog toys that get torn to shreds in minutes.
Muttluks
These boots are so indestructible that I still have a set that my parents in 2000 for a dog I had growing up. These are a must have if you like taking your dog on long hikes in the wilderness. Their Summer boots are breathable and will last forever. But most importantly, they're one of the few boots I've found that my dog doesn't hate wearing.
Bowsers
My dog is a bit of a digger. Meaning when I give him a treat, he runs to his bed and does a burying motion trying to rip apart the cover. Unfortunately, I learned that he could tear apart a cheap bed pretty quick. Nothing like coming home to a living room filled with foam padding.
Bowsers dog beds are kind of pricey but they hold up well. Not only has it survived years of his digging, there isn't a single cut on it. The cover washes easy and the bed looks practically brand new. I'd highly recommend their microfiber covers. Worth every penny.
Other Gear
When it comes to bowls, I love good stainless steel. Ceramic works but has a tendency to crack. But both are dishwasher safe and don't leech dangerous chemicals like plastic.
Also fond of SleepyPod for car happy dogs. Their backseat harness is durable and will easily last the life of your pet (and then some).
All told I've found that spending an extra few bucks for quality is worth it in the end. For their safety and your sanity, don't be afraid to splurge.
https://phetched.com/wp-content/uploads/2019/10/Depositphotos_10457098_xl-2015.jpg
600
900
Phetched
https://phetched.com/wp-content/uploads/2019/03/new-logo-purple2-300x187.png
Phetched
2019-10-14 05:31:46
2019-11-04 20:35:58
Quality Dog Gear is Worth the Cost