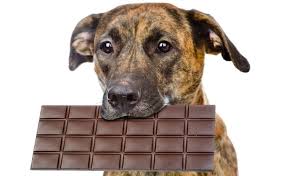 Valentine's Day is a wonderful time to show your loved one just how much they mean to you. Gifts often include chocolate, and most of us love this delicious holiday treat. However, it is wise to keep in mind that chocolate is toxic to dogs and if ingested, it can be fatal.
An excellent article by our friends at Sojos Dog Food points out why chocolate is indeed toxic for dogs:
"Chocolate contains theobromine, which is a naturally-occurring molecule found in the cocoa beans, coffee, tea, and cola and is related to caffeine. In the medical field it has been used as a drug to treat high blood pressure because of its ability to dilate blood vessels. Because of its diuretic effect, it is also sometimes used in cases where cardiac failure has resulted in an accumulation of body fluid. What makes it poisonous for dogs and not humans is the fact that dogs are unable to metabolize the chemical effectively."
It is remarkable just how little chocolate a pet needs to ingest before becoming dangerously ill. Two ounces of bakers chocolate can be poisonous to a pet of twenty pounds, and one pound of milk chocolate can be poisonous to a dog weighing twenty pounds. While milk chocolate is twenty times more poisonous to dogs than white chocolate, it is smart to keep all chocolates away from pets.
If your pet has ingested chocolate, please contact your vet immediately. If your dog has ingested large amounts, vomiting may be induced by your vet to help save your pet's life. When in doubt, always contact your vet to get the best health and safety advice for your dog.
As Spring approaches, please remember to keep chocolate Easter eggs and bunnies away from your dog. Cocoa bean mulch is also becoming quite popular in parts of the U.S. and this can be fatal if ingested. Steer away from this particular style of mulch if you or a neighbor has pets.
Please remember to keep your chocolate safely out of your dog's reach. They can be quite sneaky when there is something they want. The American Veterinary Medical Association is also a great resource for health information about your pet. Or consult with your vet with any questions on what is and isn't safe for your dog to ingest.
https://phetched.com/wp-content/uploads/2019/03/download-2.jpg
176
286
Mark
https://phetched.com/wp-content/uploads/2019/03/new-logo-purple2-300x187.png
Mark
2015-02-04 18:59:27
2019-11-04 20:36:39
Chocolate and Dogs - A Big No-No