You are currently browsing articles tagged pottery.
I spotted this pet dish in an Etsy treasury yesterday, and it is FIIIIIEERCE.
Gahhh. I need one. NOW.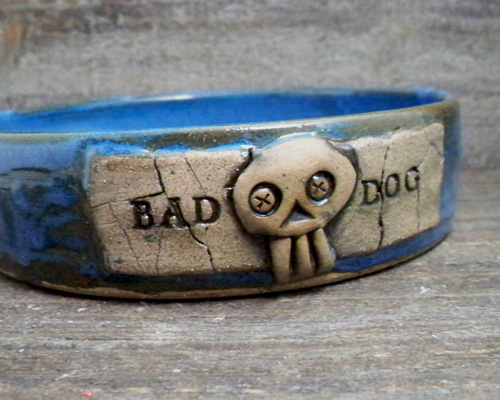 From Johnson, Tennessee's La Pella Pottery.
I've got mad love for these personalized dog bowls and plates (yes, plates!), handmade by British Columbia's Sunshine Ceramics.
(Know what else I love? British Columbia. Seriously. Y'all should go.)
The other night I announced to my husband that I was quitting my day job and throwing myself full-time into pottery. He chuckled heartily, not because he's unsupportive, but because he knows that a) I make drastic pronouncements like this all the time with absolutely no intention behind them and b) I took one pottery class in college, and the only thing I made that didn't either fall apart on the wheel or explode in the kiln is one tiny little pot hardly big enough to hold some spare change.
My little pot (which I still have, of course) is nice, but quite laughable, indeed, especially compared with the cool stuff in potter Kim Berger's Etsy shop, KbOriginalsetc, which boasts gorgeous, colorful housewares, including some awesome doggy treat jars and bowls. I love pretty much everything in her shop.
And, since any dog will tell you there's not much use in an empty treat jar, Kim's shop also features home-baked, personalized dog cookies made by Kim herself.
I'm going to go sit in the corner with my little clay pot and feel inferior now.
I have a good friend who has perhaps a bigger Etsy addiction than I do. We both probably need to join some kind of support group or something. But it's thanks to her I recently found the colorful and quirky pottery of Baton Rouge's Barbara Donovan. Barbara's whimsical, folk-artish pieces make me smile.
My favorite thing in Barbara's shop? The Zombie Love coffee mug. (As the item's description truthfully states, "Undead pets need love, too.")
If undead canines ain't really your thang, there are plenty of other pups in Donovan's shop to amuse and delight, such as the Bark Monster (below). I think I live with know this dog.
Take a stroll through Barbara Donovan's Etsy shop here.