You are currently browsing articles tagged leather.
Gorgeous, runway-worthy, blizzinged-out leather collars from Hartman & Rose. Check out the whole collection, including leads, on their website.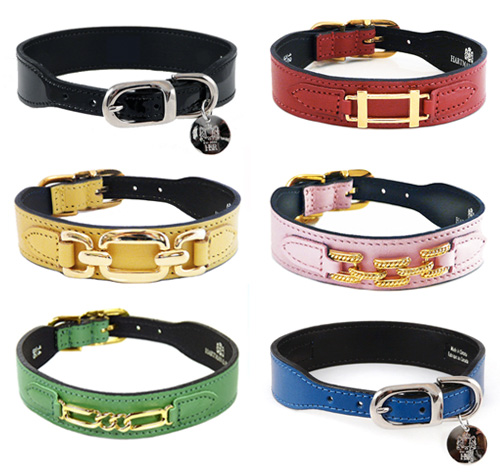 Tags: accessories, collars, leads, leather
Y'all might remember Sydney, Australia's Ruthless Leather from our feature a few months back. I am seriously covetous over basically everything on their site, but if someone wants to go ahead and get me the O-Disc cuff in red I'd be perfectly happy with that.
Today, April 1st, Ruthless is celebrating their one-year anniversary, and they're celebrating with an awesome promotion — a complimentary leash with any full-price collar order through noon on Monday, April 4th Sydney time (which is 10:00 p.m. Sunday here on the east coast of the United States). One lucky buyer will also receive a complimentary matching cuff! (And, say, if they wanted to, that lucky buyer would be free to then gift that cuff to me.)
You can read all about the promotion here. Happy Birthday, Ruthless!
Lllllleather. I llllllove it.
I llllllove these bold, sturdy personalized leather collars from 77Lionheart77.
One of my very favorite songs is Bob Dylan's "Boots of Spanish Leather." Well, here we've got collars and leads of Spanish leather, and they're awful pretty.
Creature Clothes' leather collars and leads (available from Merry Dogs Ltd) are handmade in England from high-quality Spanish bridle leather. You can choose from collars and matching leads studded with bones, hearts, or stars (nickel or brass) – although I quite like the simple but classy plain leather version.
You can fetch Creature Clothes collars and leads from Merry Dogs, which offers affordable shipping to the US.