We have quite a bit of dog hair around our house. (Perhaps I've mentioned it before.) As a result, our Dyson gets quite a workout, and I must say I'm impressed with how good a job it does. (I'm getting a little annoyed with Dyson's commercials, though. What's Mr. Dyson's deal, exactly? It's a vacuum cleaner, guy. The overlord tone is getting old.)
Anyway, Dysons truly are champs at handling dog hair, and now Dyson's come out with something designed to address the hair problem at its source — that is, while it's still on your dog. The Dyson Groom is a new tool (vacuum cleaner not included, of course) that you use to literally vacuum your dog. The Dyson Groom sucks the loose hair right off Fido before it has a chance to fly about and land on your floor, your furniture, or your children and friends.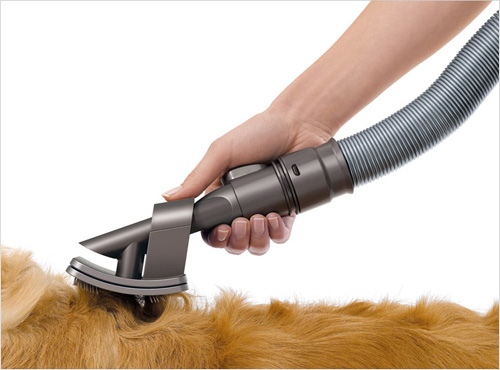 Now, lest you laugh, I have friends who vacuum their dogs (with their standard vacuum attachments), and reportedly (a) it works and (b) the dogs love it. In the case of the Groom, though, $69.99 will buy you that super-special Dyson engineering — including slicker bristles that gently pull and smooth the hair, a spring-loaded trigger and storage mode, one-handed thumb control, and a self-cleaning mechanism.
Depending on your dog's feelings about the vaccuum cleaner, it may or may not resemble a medieval torture device.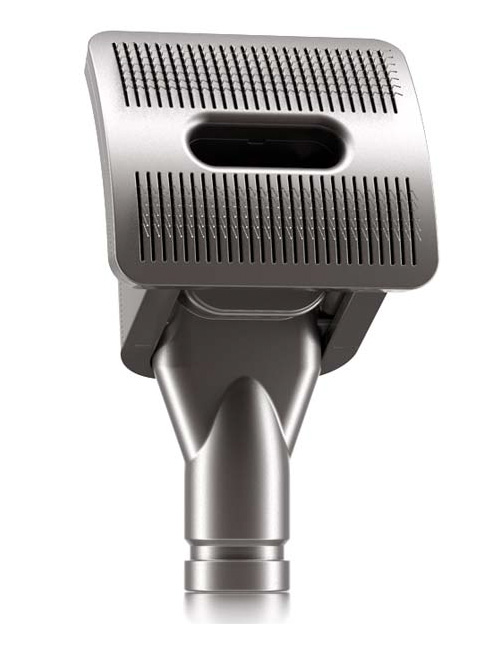 You can learn more about the Dyson Groom at Dyson's website.