Our Best Phriends network has already welcomed pals from England and Australia in the past, and today we're stoked to say hello to Kingsley and Robin, two handsome guys living in The Netherlands!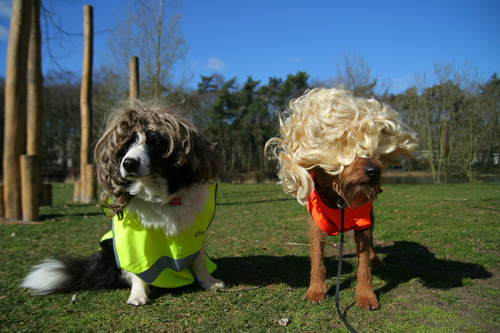 Name: Kingsley… or they call me the KING
Age: 10
Home: The Netherlands
Owner: Shanni
Breed: Border Collie
Nicknames: King king, tiger face, grouchy, Ah 狗(dog in chinese)
Arrival story: Shanni was looking for a dog to adopt after losing her dog to sickness. She answered an adoption advertisement for a terrier. But it turned out that the foster wanted to keep her. She confessed that her dream dog is a border collie. Coincidently, the re-homer knew that there is a border collie in a shelter that is looking for a owner. And it was a match made in heaven. That's the short story. The long story.. you can read it here.
Name: Robin
Age: 12
Home: The Netherlands
Owner's name: Harry
Breed: Irish Terrier
Nicknames: Robin, the Boing boing dog
Arrival story: Robin was already with Harry when we came and lived with him.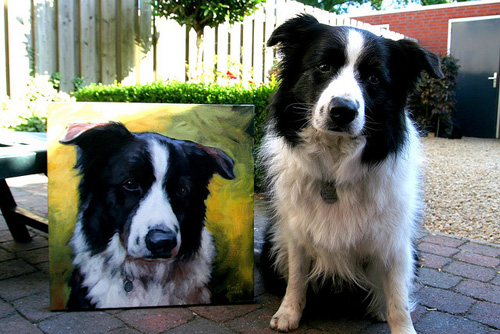 Kingsley
Favorite food: Bone marrow, meat, cheese
Best trick: My dad wanted Kingsley to bark so he went "Arf! Arf!" He mistook it as "OUT! OUT!" and left the room. It was hilarious (we got it on video!)
Biggest fear: Motorcycles or motorbikes. He fears and hates them to the core. And that's how he broke the wind screen of the car.
Favorite toy: Squido!!
Special honors or achievements: He has won a twitter contest of a customized painting from Aimeé Hoover. It was the best thing ever.
Hobbies: Running, playing with his frisbee, agility
Favorite place: Anywhere where he can swims
Most expensive item ever destroyed: The windshield of a Mercedes-Benz
Robin
Favorite food: Anything that Kingsley has
Special talents or skills: He can go Aarrooo like a bird — honest!
Biggest fear: Water!
Favorite toy: A stuffed Kong
Most annoying habit: Being boing boing boing boing.. and he goes all out to look for bread left outside (by the neighbors) for the ducks.
Hobbies: Chasing rabbits
Favorite place: Anywhere with lots of smells is great
Arch nemesis: Kingsley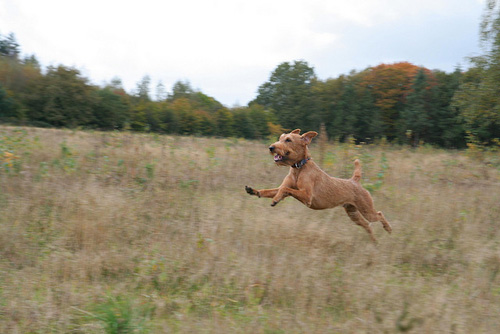 In a movie about your pup's life, what actor provides his voice?
Kingsley: Who else but Ben Kingsley??
Robin: A hyper Will Smith (in "Fresh Prince of Bel-Air")
If your pup were in high school, who would he sit with at lunch? Jocks, nerds, freaks, preps, geeks?
Kingsley: Jocks
Robin: He would be a comedian
What's your pup's most embarrassing moment – or the most embarrassed YOU'VE been thanks to your pup?
Kingsley: He loves to go swimming.. and anything with water, he'd be in it. So one day, he jumped into a very SMELLY and STINKY pond, got all his fur stained yellow. We couldn't get rid of the smell and had to send him to his groomer to be soaked in a tub for hours.
Robin: His fart is silent and HORRIBLE!
If your pup wrote his biography, what would it be titled?
Kingsley: With Love, Anything is Possible
Robin: Why Worry?
What's the biggest trouble your pup's ever gotten in?
Robin: A flock of ducks came flying the wrong way, towards us instead of away from us and 1 promptly flew into Robin's mouth. Being a terrier, he bit it and refused to let go. It was horrible as we couldn't help the duck. And the day Robin found a frozen (dead) rabbit and refused to let go.
If your pup had a job, what would it be?
Kingsley: Being a sheepdog.
Robin: Running free in the sun.
Thanks, Robin and Kingsley! We're not currently accepting submissions for Best Phriends, but stay tuned to future posts for information on how your pup(s) can be featured!
Tags: Best Phriends
Comments are now closed.