Today's Best Phriends are littermates from New York, Don and Juan. The fountain trick? Whooo boy.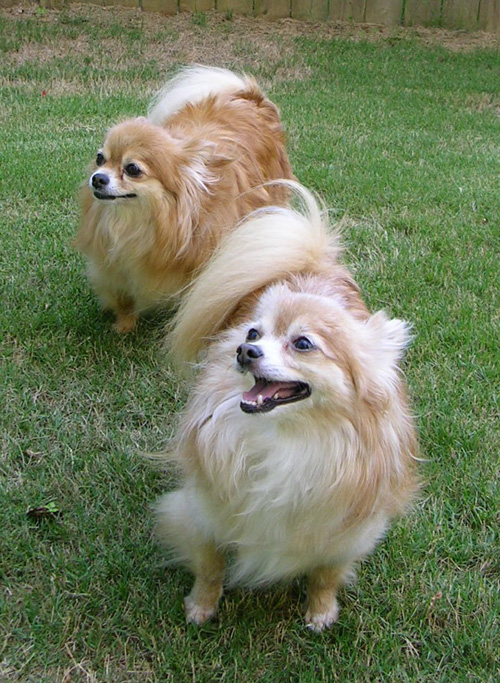 Name: Don and Juan (littermates)
Age: 12
Hometown or state: They were born in rural Georgia but recently made the move to Western New York
Owners: Sheryl and Jason
Breed/s: Long-haired chihuahua (with a pinch of Pom)
Arrival story: I found Don and Juan on Petfinder, sent a picture to my husband and wrote, "These are our dogs." He saw the photo . . . and agreed. We had a "meet and greet" at a local pet store and they were ours for good a week later. They were six years old, had been living on a screened-in back porch for their entire lives, and had never seen a vet, groomer, etc. The rescuer said they were the dirtiest dogs she had ever seen. They had to be shaved, but, thanks to the power of warm beds, belly rubs, and food on a regular basis, their fur (and sweet, gentle nature) returned.
Favorite food: Cool Whip for both.
Special talents or skills: Juan is a hairdresser. We can always tell when he's been putting his talents to work (aka, licking Don). Don's mane is sticking out, up, over—very guinea pig. Juan will only stop when we tell him, "It's okay. Donnie is clean. Thank you."
Best trick: Juan's fountain trick is always a crowd pleaser. Whenever he gets caught doing something he shouldn't, he will stop, roll over and shoot a stream of pee skyward!
Favorite toy: Donnie has a teddy bear (resembles Garfield's Pooky) that he must have within sight at all times. I used to wash the thing once a week but finally caught on and just started buying them in bulk. We keep a three- to four-bear stockpile at all times.
Best friend: Each other! They also love their sister, Clara, a Cavalier King Charles Spaniel and puppy mill rescue, who joined the family almost two years ago. She generates a lot of body heat so they've allowed her to stay.
Arch nemesis: Pretty much any person (other than Mom and Dad) or object that emits noise. Donnie gets especially incensed when someone has the nerve to walk by HIS house without requesting permission first. He'll puff up his six-pound body to make it look closer to eight pounds.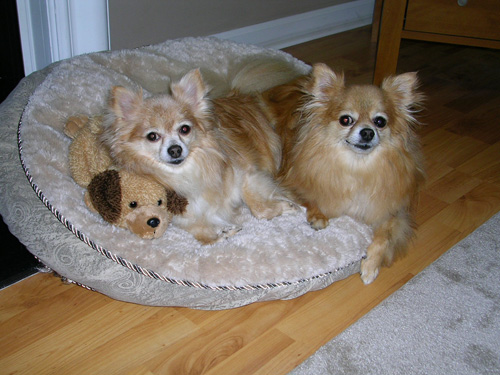 If Don and Juan were in high school, who would they sit with at lunch (jocks, nerds, freaks, preps, geeks, etc.)? They would never make it past the lunch counter to the tables—would be too busy hanging out with the lunch ladies begging for extras.
What are Don and Juan's most embarrassing moments – or the most embarrassed YOU'VE been thanks to your pups? We are thankful (not to mention surprised) that Don and Juan have not been banned from any pet grooming establishments. Don hates having his nails trimmed and Juan does not appreciate anyone touching his little ear tufts. They both start barking the second we arrive at the groomers, soon joined by the chorus of all the other previously quiet dogs.  We always pick them up early because we know the groomers are eager to restore sanity to their shop. We also leave a very large tip!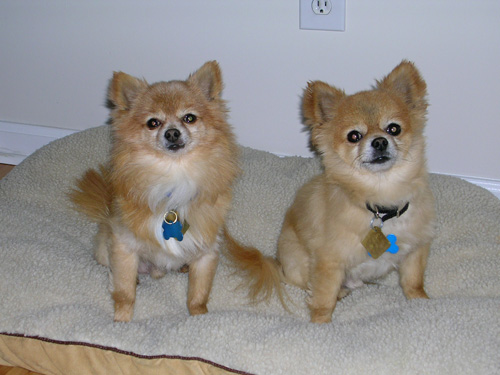 Welcome to our Best Phriends crew, Don and Juan! We're not currently accepting applications for more Best Phriends – but check back in future installments to find out how your pup(s) can be featured.
Tags: Best Phriends
Comments are now closed.