I saw these awesome, colorful Crypton pillows and dog beds on Designer Doggy yesterday, and somewhere in the recesses of my mind flashed a memory of an email I received a couple of days ago from a Crypton rep — an email I skimmed and then promptly forgot because we moved a week ago and ever since my brain has felt like it's the consistency of something rather like cottage cheese. I swear, I will never move again. I WILL BE BURIED IN THIS HOUSE. Which could happen quite by accident right now, actually, with all these boxes and newspapers and stacks of stuff around.
Anyway. William Wegman for Crypton has debuted three new patterns, and they're delicious. Crypton, as you know, is that magical stain-resistant, ultra-durable fabric, and William Wegman, is… well, you know.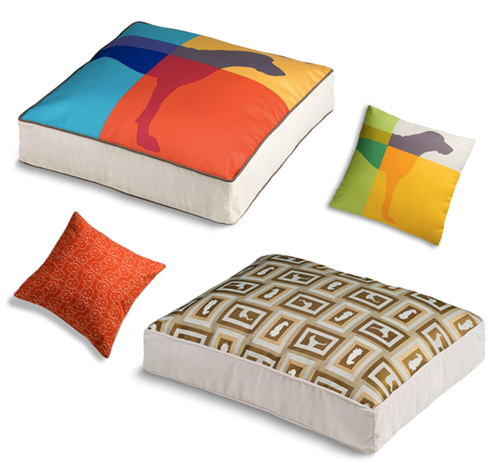 Hmm… our new house has a perfect little corner in the living room for a dog bed to fit, and I've been thinking about getting something snazzy to place there that the pups could share. If a dog bed's not in your current budget, check out the pillows in Crypton's shop. Superb!
Tags: beds
Comments are now closed.