UPDATE:  This contest is now closed, but please check back soon for more contests and giveaways! And congratulations to our winner, Dianne!
We featured Marc Tetro's colorful and expressive dog art drawings here, and in celebration of phetched's official grand launch, we're giving away one of his prints ABSOLUTELY FREE! An 11×14″ print of Marc Tetro's "Four Dogs," ready for framing and display in your home, can be yours just for visiting phetched!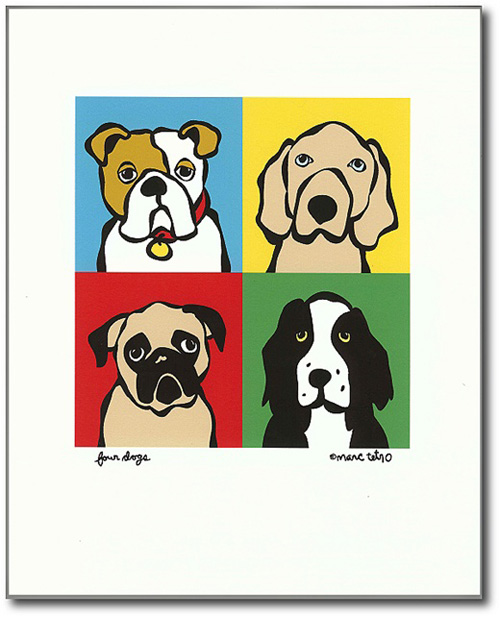 All you have to do to is comment on THIS POST to be entered in a drawing to win the print. Please provide your name and email address so we can contact you if your name is drawn. (Your email address will NOT be displayed publicly.) If you own a dog, we'd love for you to tell us what kind of dog you have and what's the last dog product, excluding food, that you purchased (i.e., a harness, a Kong, a straightjacket). Don't own a dog? That's OK… we accept everyone here at phetched, so you can go on ahead and enter, too.
While you're here, please become a fan of phetched on Facebook. We'd really appreciate it.
Contest closes at 11:59 p.m. Friday, May 22nd. One entry per person, please. Yee-haw!
Comments are now closed.