This Friday, June 26th, is Take Your Dog to Work Day. This year marks the 10th anniversary of the event (created by Pet Sitters International), which celebrates "the great companions dogs make and to encourage their adoption from humane societies, animal shelters, and breed rescue clubs" (from the TYDTWD web site). True enough, employers across the country are finding out that dogs in the workplace can create better employee morale, boost productivity, and even make for healthier employees (or, at least, fewer sick days taken).
We're lucky in that my husband's workplace, a graphic-design firm, is dog-friendly year-round, so both Mingus and Dottie get to accompany him to work on a regular basis.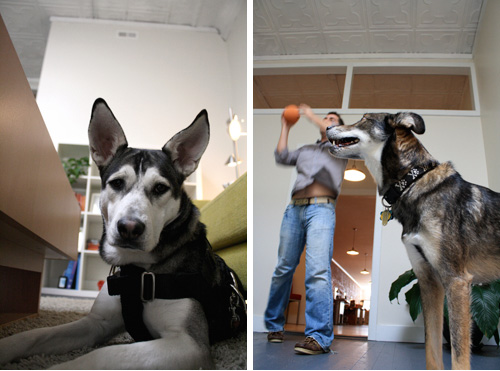 So what do dogs do at work? Here's a rundown of a recent, fairly typical day for Dottie at the office:
9:35 – Arrive in the office. Greet Woody, Joe, and Ellie with woo-woos.
9:37 – Get to work on the bone that Kava (lab mix) left on the floor yesterday.
9:55 – Greet more co-workers (Dylan, Kristy, Brendan) as they arrive at the office. Give Ellie a couple more woo-woos.
10:15 - Catch some ZZZs.
11:35 – Walk around and check a few trash cans while everyone's distracted in a meeting.
12:19 – Check out what Joe's having for lunch. Get none.
12:25 – Go sit by Dad and cry a little.
12:26 – Potty break.
12:41 – Out to lunch with dad. Dad shares a French fry. Does not share pork chop sandwich.
1:05 – Catch some ZZZs.
2:37 – Greet an office visitor. No belly rubs are offered, so back to napping.
3:15 – Watch a game of office basketball. Boring, but the noise makes it hard to nap satisfactorily.
4:05 – Sit and stare at Dad to let him know it's about time to go.
–
If you plan on taking your dog to work on Friday in celebration of TYDTWD, be sure to clear it with your boss first, of course, but also be sure your pup would be happy and comfortable in your office environment. Be sure to bring a bowl for your pooch's water (and any other food or supplies he'll need).
Be sure to have his Social Security number on hand, too, so you can help him fill out his W-4s.

Comments are now closed.