UPDATE: Our contest winner was Commenter #17, Katie! Congratulations, Katie!
—–
Mingus and Dottie don't do much to help around the house, but they're always ready to step up when there's a treat review to be done. In this installment of Mingus & Dottie Try It, Mingus & Dottie try Soft & Chewy Buddy Biscuits and Trail Hound Dog Snacks, sent to us by Melissa at Cloud Star.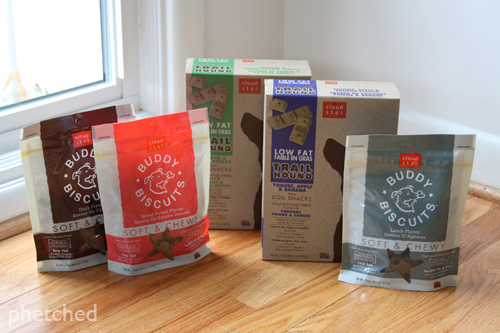 Both Trail Hound snacks and Buddy Biscuits soft and chewy treats are made in the USA with all natural ingredients. Trail Hound treats are low fat, perfect for both older pups and active youngsters. Although they contain no corn, no salt, no sugar, no soy, no egg, and no BHA or BHT, Trail Hound treats are loaded with healthy stuff, like essential fatty acids, antioxidants, L-carnatine, and kelp.
I had my doubts, as the Trail Hounds kind of look like those "cardboard" treats they have at the vet — but they smell good, and Mingus & Dottie got really excited over the Yogurt, Apple & Banana flavor. I like how they're two treats joined together like a domino – perfect for snapping in half and splitting between two dogs.
Next Mingus and Dottie tried the Soft & Chewy Buddy Biscuits, shaped like little gingerbread men. This version of the original Buddy Biscuits is fragrant, soft, and chewy, and MY DOGS LOVED THESE TREATS. Seriously, they kind of caused a scene. I almost got mauled trying to take that picture up there. Like Trail Hounds, Buddy Biscuits are low in fat and contain no artificial flavors, colors, or preservatives, but they apparently do not fall short on taste. It's hard to believe my dogs could be so crazy about something that's actually good for them.
Suffice it to say that when we finish up our freebie bags, we'll be getting more Cloud Star treats.
Something else I really like about Cloud Star? Following their motto of "Wag More, Bark Less," the company (founded in 1999) makes an effort to help pups and people in need. Believing that "good business should include doing good for others," Cloud Star has pledged at least 10% of net profits to organizations that benefit animals, women, children, and the environment.
You can see all of Cloud Star's treats here and find out where to fetch them here.
We want to share! Simply comment on this post below, and we'll send one lucky (random) commenter a box of Trail Hound snacks (Chicken & Sweet Potato) and a bag of Soft & Chewy Buddy Biscuits (Duck)! We'll draw a winner at 8:00 Eastern time today. (Sorry – We can only ship to U.S. and Canadian addresses.)