I moseyed into Target last Friday in search of tights. On my way up to the register (carrying an armful of stuff that, of course, included way more than just tights), I detoured by the pet section just to check things out and see if there was anything new and OH MY DOG THERE IT WAS, the dog Holiday Dinner Plate toy — which I had recently spied in magazines and on a couple blogs. I seriously gasped out loud when I saw it in person. An old man nearby looked askance at me. Whatever. I tucked it under my arm and made my ungainly way toward the checkout like the winner of the New York Marathon.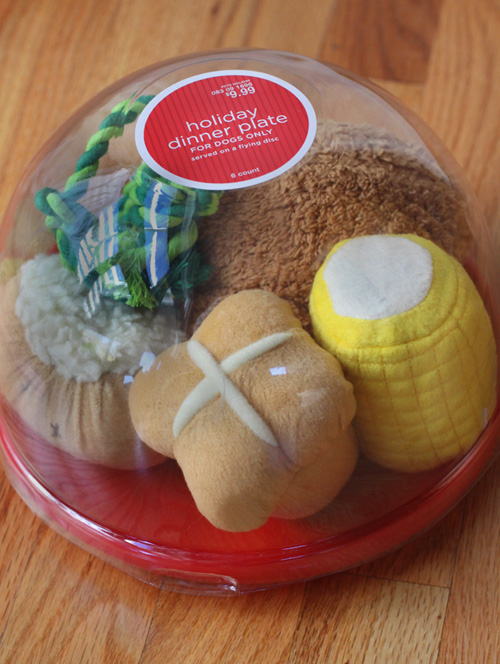 I mean, really. How awesome is this thing? You've got a plush squeaky turkey, corn on the cob, baked potato and roll, rope.. uhh.. green beans?… all served up on a Frisbee plate. Brillant. And only $9.99? Hello. Mine.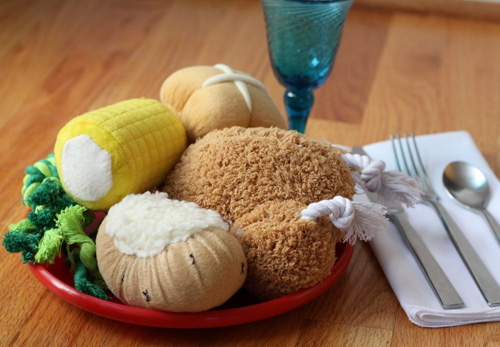 Yes, I did set up the photograph with silverware and a wine glass. Thank you for noticing.
And yes, I will chuckle heartily when I see Dottie walking around the house with that corncob in her mouth.
You can fetch the Holiday Dinner Plate (which also comes with squirrel instead of turkey) (update: also, lobster!) at Target stores all over.