You are currently browsing articles tagged graphic design.
I love these dogs.
I LOVE these dogs.
They're Folk Dogs by Bozeman, MT painter and graphic designer Abby McMillen.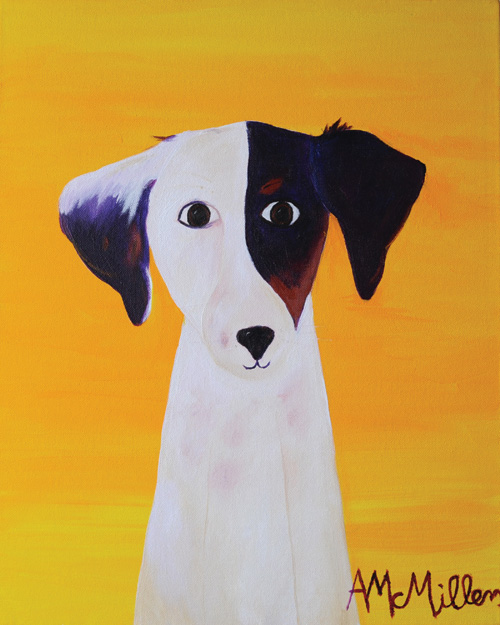 Why do I love them so? Let me count the ways.
Rarely does one of McMillen's Folk Dogs identify itself as any one particular breed — instead, they're Everydog, a celebration of the "Heinz 57″ mutts so many of us know and love. Nevertheless, many of the dogs look strangely familiar to me, uncannily reminiscent of a dog I've known. These simple paintings, with their bold blocks of color and straight-on, close-up point of view, capture everything I love about dogs: their honesty, their raw emotion, their uncomplicated-ness. To me, their eyes look nearly human — perhaps in homage to the profound relationships we're able to create with these animals?
Anyway, they make me very happy.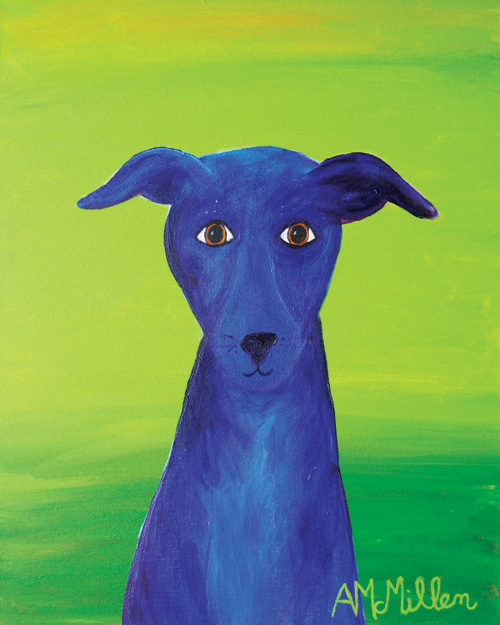 Awesome organic dog treat company Barkwheats must like the Folk Dogs a whole lot, too, 'cause they're featuring the Dogs on their new packaging set to release next month. McMillen does accept commissions, and she donates a portion of each commission to Heart of the Valley Animal Shelter.
You can check out McMillen's Folk Dog gallery and blog at her site. If Folk Dogs might make someone you know happy, too, send them a link to this post!
Tags: adoption, art, charities, graphic design, mutts, rescue
I was at the grocery store a couple days ago grabbing something quick for lunch, and on my way up to the registers I caught a glimpse of some packaging out of the corner of my eye that literally made me stop, turn around, and investigate. (I don't know a ton about graphic design — that's my husband's bag, after all — but I'm pretty sure provoking such a reaction is pretty much the point.) Although I didn't even really realize I was in the pet-supplies aisle at the time, I was stoked to see that what had caught my eye were Bit-O-Luv dog treats.
How much do I LUV this packaging?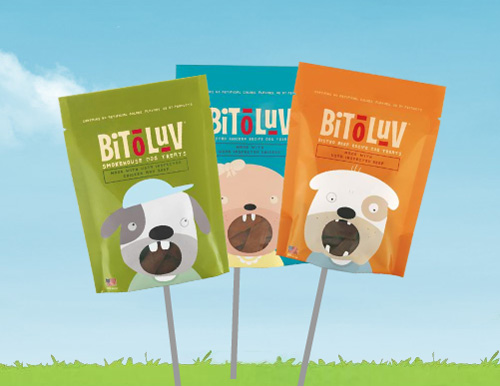 I had heard of Bit-O-Luv when they first debuted a few months ago, but this was the first time I actually had seen them in a store. Bravo, Bit-O-Luv, on your super brilliant package design.
I checked out Bit-O-Luv's web site and discovered their treats are made in America with USDA-inspected meat, no wheat gluten, and no by-products, and Bit-O-Luv also donates a portion of profits to local dog-related charities. Pretty cool, huh? Their fun web site also allows users to report lost or found dogs and connect with other dog owners in your area for park dates and meeting new pup pals. All in all, it sounds like a pretty cool company.
So I forgive you, Bit-O-Luv, for suckering me in with your cute little snaggle-toothed cartoon doggies on your labels. You got me, fair and square.
Tags: graphic design, treats, Web sites
Check out the packaging for Lily's Kitchen Proper Pet Food. Ain't it perty?
The packaging was designed by Aaron Hinchion, who says he wanted to create "something that says, 'the food in this tin is quality' without resorting to pictures of the food or the usual big dog face." Mission accomplished, Mr. Hinchion.
Lily's uses all organic and holistic ingredients, adds no nasty byproducts or fillers, and was named the UK's #1 ethical pet food company in 2009 by the Good Shopping Guide, thus truly earning the name "proper dog food." Unfortunately, I believe Lily's is only sold in the UK for now.
I found Lily's and these images via The Dieline.
Tags: food, graphic design, Web sites
The Robin Shepherd Group from Atlanta designed these righteous labels for Duke's Cold Nose Brown Ale from Bold City Brewery.
Duke's Cold Nose Brown Ale is for people, but did you know you can buy beer for dogs? It's non-alcoholic, of course, and comes in beef flavor. I know… there's just something very wrong about that.
We sniffed these labels out at Lovely Package via OK Great.
Tags: graphic design, Web sites