I'm crazyface about my iPhone, and I'm not embarrassed to admit it. It's great having email right at your fingertips, wherever you are, and I get an unbelievable amount of joy taking fakey instamatic photos and uploading them to Facebook. But I think the crux of my love affair with my iPhone lies in the fact that with it by my side, I will never, ever again be bored (as long as I'm in an AT&T service area). Line at the grocery store? Twitter is there to amuse me. Waiting in the airport? Doodle Jump and the New York Times are there to entertain me. Oil change taking forever and a day? Well, now I have puppies to ogle.
There's a new iPhone app (developed by WireBear) featuring THE DOG's squeaky cute, immensely popular photography. Available from the iTunes store for just $1.99, THE DOG for iPhone contains breed and care information for 92 breeds (including rare and lesser-known breeds) –  information about grooming, exercise, and trainability. Dog profiles can be sorted and arranged by characteristics like shedding level, activity needs, size, and stranger friendliness.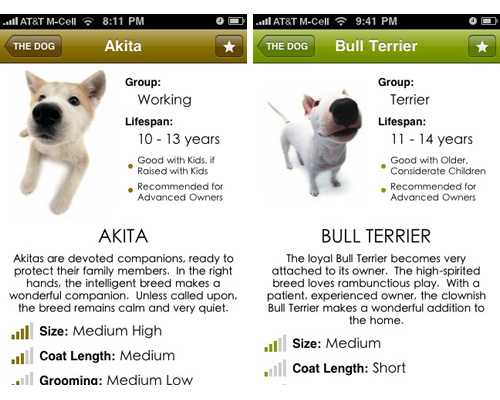 Or, if you're like me, you'll enjoy yourself just squealing over the puppy photos.
Visit iTunes for more information on THE DOG for iPhone (currently only available for iPhone — sorry, Droidians).