This is the time of year when I start having near-daily nervous breakdowns when I go out in public and see Christmas and Hanukkah decorations, cards, gifts, candies, et cetera already blanketing the stores. WHY must we start this circus earlier and earlier every year? And Dog help the shop that's playing holiday music before December 1st. I've been known to get verbally abusive.
One thing I don't mind jumping the gun on, though, is purchasing my calendar for the upcoming year. Let's be honest: if you wait too long to get one, you're stuck with a calendar pictures of unicorns or kitties hanging in trees or horses galloping through waterfalls and stuff. No offense if any of that is your thing.
I think I've already picked out the calendar I want for 2011: the newest installment in Lili Chin's Boogie On series, Boogie on Scooters. The full-size calendar features illustrations of Lili's charming Boston terrier, Boogie, posing on a variety of classic bikes.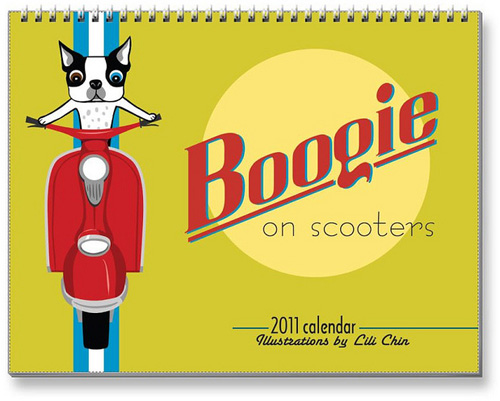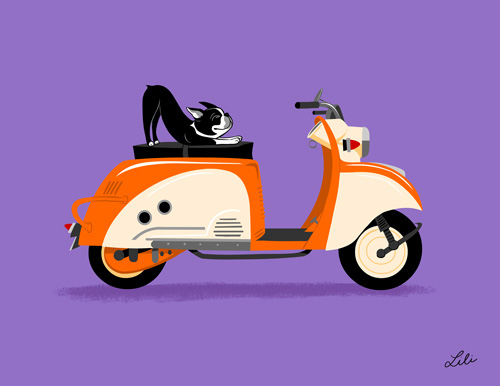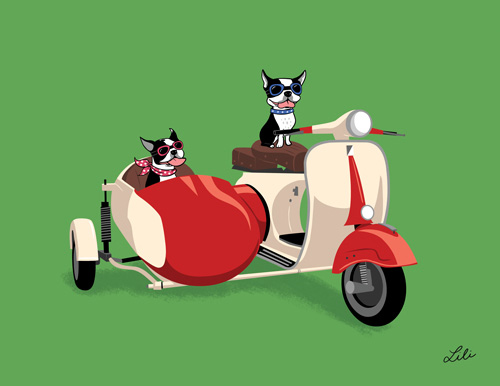 You can preview the drawings for Boogie On Scooters on Lili's flickr, and you can order the calendar from Zazzle.