Who loves boxers? We do, we do! Here's our newest Best Phriend, a lovely boxer named Daisy.
Name: Daisy
Age: 3 years
State: New Hampshire
Owner's name: Nicolasa
Breed: Pure Bred Boxer
Nicknames: Crazy Daisy, Boo, Cuddle Bug, Pup
Arrival story: I have wanted a Boxer for as long as I could remember.  When my fiance (now husband) and I moved to a place where we could have a dog he took it upon himself, along with the help of my mother, to find a Boxer puppy to give to me for my 23rd birthday.  We visited her a few times before bringing her home. My sister and I picked her up at eight weeks old and it has been a fun adventure ever since!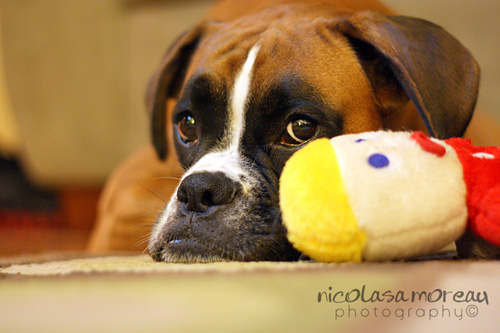 Favorite food: Peanut butter, green beans and watermelon
Best trick: Twirling or Curtsy
Biggest fear: Getting into the bathtub and 18-wheeler Trucks
Favorite toy: a toy we refer to as her boyfriend
Most annoying habit: Jumping up and sitting right on your chest or lap so that the back of her head is being pushed into your face. She truly believes she is ten pounds when she is in fact 67 pounds!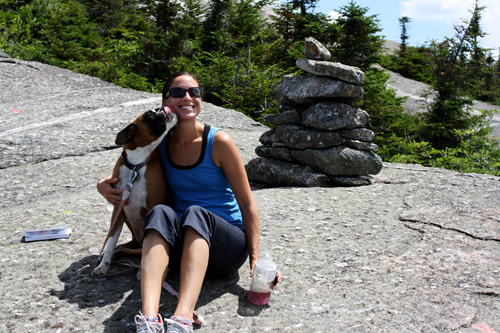 What's Daisy's most embarrassing moment – or the most embarrassed YOU'VE been thanks to Daisy? I think HER most embarrassing moment was when I was putting dishes into the dishwasher and she came over to lick the forks clean and got her collar stuck on the dish rack so when she pulled her head back the whole bottom rack went rolling out and on to the kitchen floor. She kept scooting backwards all the way to the living room before I could unhook her! I was laughing so hard I couldn't take it! She on the other hand bolted up on the couch and sat there looking stunned. It took her weeks before she would go in the kitchen when we had the dishwasher open!
If Daisy were on "Survivor," why would she be voted off the island? She would be voted for licking people's faces too much. She is such a kisser and doesn't know when to stop. The other pups would have enough and just want her gone!
We'd love to have your pup/s as part of our Best Phriends! Just send an email with your name and the name of your pup/s to bestphriends (at) gmail (dot) com.
Tags: Best Phriends, photography
Comments are now closed.