Take a look at this awesome haul! It could all be yours if you're the winner of our Super-Duper Fantabulous Grab-Bag Giveaway!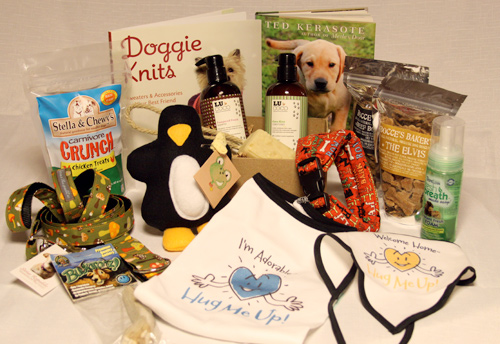 Holiday season is rapidly approaching. So what to get for pups and pup lovers? Our Super-Duper Fantabulous Grab-Bag Giveaway is chock full of great gift items you can either keep for yourself (what I want to do) or give away to pup friends. Learn more about these Super-Duper Fantabulous items below, and find out how to enter the giveaway at the end of this post!
Sort of clockwise, from left:
> Leash and martingale collar set from Sirius Republic - This beautiful handmade nylon and fabric leash and collar set (in a cool gender-neutral mushroom pattern) will be the envy of every pup at the park. Sirius Republic has such pride in their products that they offer a New Collars for Life guarantee!
> Carnivore Crunch chicken treats from Stella & Chewy's - These tasty treats are made with all-natural, farm-raised chicken and contain no grain, no added antibiotics, no artificial preservatives, and no sugar, salt, or colorings. They're even certified pathogen-safe.
> Signed copy of Doggie Knits: Sweaters & Accessories for Your Best Friend by Corinne Niessner - I want to keep this one for reals, y'all. This book is filled with adorable photos and easy-to-follow instructions for knitting handmade lovelies for your pup. It would make an excellent gift for a knitting friend – or help you make awesome gifts for all the pups on your list.
> Pampered Pooch Shampoo, Coco Kiss Conditioner, and Doggone Goodness Shampoo Bar from Lu & Coco – This new line of organic pet grooming products contains essential oils and natural ingredients sourced from plants to renew, refresh, and rejuvenate your dog's coat. Free of harsh chemicals, Lu & Coco products moisturize and soothe the coat, and the Shampoo Bars help repel fleas and pests.
> Pukka: The Pup After Merle by Ted Kerasote (author of Merle's Door) - It's a book filled with beautiful and squeal-inducing photographs of a yellow lab puppy – what's not to love? Pukka tells the story of the author's bonding with his new puppy, "illustrating the many ways that any dog can open the door to our hearts."
> Tasty treats from Bocce's Bakery - Bocce's Bakery all-natural, organic dog biscuits are handmade in New York City from human-grade ingredients. Included in the giveaway is a bag of The Elvis (peanut butter and banana) and Beef Bourguinon (just like Julia Child made!). Check out Bocce's site and tell me these don't look scrumptious. Mingus and Dottie can attest that they're deeee-licious.
> TropiClean Fresh Breath Instant Fresh Foam - Mingus probably needs to keep this, but we're going to give it away anyway. This fresh mint foam is made from ingredients like aloe, green tea extract, and mint – so it's safe and effective against bad breath and germs. It comes in a pump for easy squirtage into your pup's foul mouth.
> Calm Me Down collar from Calming Collars - Calming collars are handmade, filled with a blend of herbs that help pups relax when stressed and anxious, like during thunderstorms, fireworks, or trips to the groomer or vet. This thing? Smells GOOD. Calming Collars also makes anti-motion sickness and cooling collars – check them out on their site.
> Adorbs tee and bandanna set from Hug Me Up! – You might remember Hug Me Up! from a previous feature here on phetched. This preshy tee and bandanna set will help your pup spread the love – and hugs – all over town.
> Handmade penguin squeaky plush toy from Smiling Frog Pets - This little guy is SO. CUTE. This penguin is handmade by Smiling Frog Pets, purveyors of adorable handmade dog and kitty toys. Made from felt and filled with polyfil, this plushie penguin has no dangerous eyes or other parts to pull off.
> Buckarooz! Antler chew from Free Range Eco Naturals - This quality chew contains one ingredient: all-natural deer antler. Antler treats are long-lasting, great for cleaning teeth, and a cruelty-free, renewable resource! Free Range Eco Naturals is an incredibly green company – packaging is recyclable and compostable, and the company is 100% tree free. Your pup, of course, doesn't care about all that – but he'll definitely enjoy gnawin' on his Buckarooz antler.
This entire Super-Duper Fantabulous Grab-Bag Giveaway, filled with wicked sweet holiday gift ideas, has a total value of – wait for it – $200! Boom! Enter now!
There are two ways to enter this giveaway (you can do either one, or both):
1 – Leave a comment on this post! Be sure to include your correct email address in the comment form. (Email will not be displayed.)
2 – Tweet about this giveaway to your Twitter followers. Your tweet should include @phetched and a link to this post. (Note: Please don't put "@phetched" first in your tweet, or it will only go to me! Begin your tweet with something other than "@phetched" for it to go to all your followers.)
You may enter up to two times as described above. Deadline is 10:00 p.m. 5:00 p.m. (Eastern time) on Monday, November 15th. Good luck!
Prizes can be shipped to U.S. and Canada shipping addresses only. Thanks!
Tags: giveaways
Comments are now closed.