I just returned from an awesome vacation involving corned beef, Chris Rock, architecture, and Van Gogh, and while it's pretty hard to top all that, I thought, Hey, how's about we give away some stuff on ye olde blog?
This week's giveaway is brought to you by the folks at Laughing My Tail Off, makers of the revolutionary Laughing Leash. The Laughing Leash, designed something like a long hair scrunchie, gently extends and retracts from 2 to 6 feet and back, effectively eliminating dragging, tangling, and potentially dangerous jerking. It's made of soft fabric and sports a comfortable cushioned handle, and since the Laughing Leash only extends to 6 feet, it allows your pooch some leeway while still allowing you complete control of your dog (unlike the annoying unwieldy trainwreckish traditional flexi lead, which potentially puts every man, woman, child, and beast in a plus-or-minus-25-foot radius in danger).
Here's Dottie somberly modeling the leash. The pups have been in "playcare" for the past few days, so she's a little draggy. Tyra would not be impressed.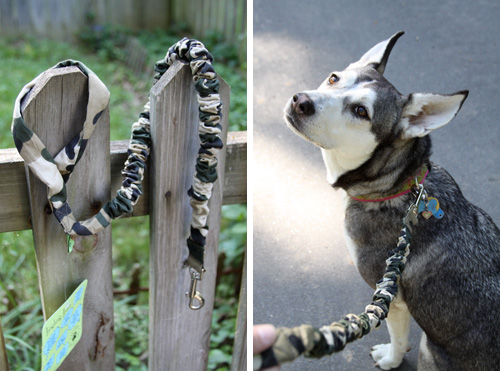 Simple in its appearance, the Laughing Leash's design has already been lauded by dog behaviorists and trainers and was named the Best New Training Tool of 2010 by Animal Training Examiner.
The Laughing Leash comes in two sizes (for dogs under 70 pounds) and a variety of colors and patterns (even fuzzy styles!). And since the leash was originally inspired by a rescue dog named Bennett, Laughing My Tail Off donates a portion of all proceeds to animal shelters and rescues nationwide. That's awesome.
And now! We'll have three winners for this giveaway – 2 small/medium leashes (for dogs 20-70 pounds) and 1 extra small leash (for dogs up to 20 pounds).
To enter:
1. Comment on this post with the size of leash (XS or S/M) your dog would use. The XS leash being given away is the stars pattern, while the S/M leashes are red and camo. I'll choose the winners' patterns randomly, as it's my blog and I get to make the rules.
2. In your comment, tell us your dog's favorite place to walk.
The giveaway is open until Sunday, May 23 at 8:00 p.m. Eastern time. We'll choose 2 S/M winners and 1 XS winner by random drawing and announce them Monday morning!
Only one entry per person, please, and U.S. and Canada shipping addresses only.

Comments are now closed.