Hey, y'all! It's Phreebie Phriday here on phetched. What does that mean? Well, it means we've got some phreebies (or, less annoyingly, freebies) sitting around here that we're giving away today — one day, one big package, one winner, wham-bam thank you ma'am.
All you have to do to enter is leave a comment on this post. Entries close at 5:00 p.m. Pacific time (quittin' time!) TODAY, and a winner will be chosen at random later tonight. The winner's package will be shipped out Monday morning. How's that for phast and phriendly service? OK, I'll stop.
U.S. and Canada addresses only, please. Unfortunately, I'm not made of money.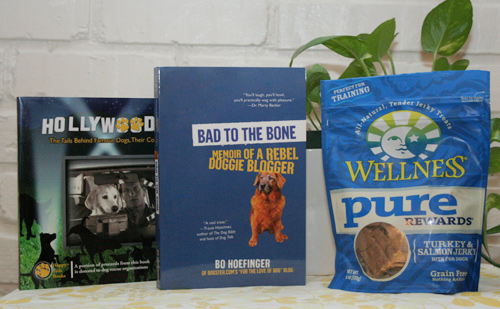 This giveaway includes ALL of the following:
A "pawtographed" copy of Bad to the Bone: Memoir of a Rebel Doggie Blogger, the hilarious debut from Bo Hoefinger (of Dogster's For the Love of Dog blog) chronicling Bo's rise from shelter dog to blogger fame, courtesy of the author
A copy of Hollywood Barks! – the true stories of show-biz dogs – courtesy of Happy Tails Books
A fresh and tasty bag of Wellness Pure Rewards turkey & salmon jerky treats, courtesy of Mambo Sprouts
That's a $40.00 value, and it could be yours PHREE! Happy Phriday!
Comments are now closed.