Ahh, Labor Day… the day on which we recognize the trials, tribulations, and contributions of the worker by, blissfully, not working. Did you know Americans actually borrowed the idea of Labor Day (or Labour Day) from the Canadians? I said a little prayer of thanks to all of Canada as I happily ignored my alarm clock this morning.
Here in America, Labor Day is often celebrated with grilled meat, beer, and, when applicable, water sports (which kind of makes it a lot like Memorial Day, and the Fourth of July, just without the patriotic overtones… or, really, like pretty much any American non-work day in the summertime).
Anytime you take your pup out on the water, it's important, of course, to protect your pooch's safety with a life jacket. Ruff Wear, Inc., purveyors of some of the best dog gear out there, offer the Portage and Big Eddy Float Coats for safe and happy doggy paddlin'.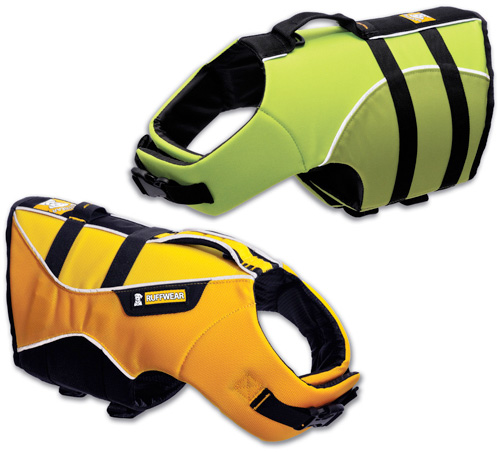 The Portage Float Coat™ (in green above) is designed for comfortable buoyancy for light, recreational water play (including what my dogs do… wading in about paw-deep and looking around stupidly), while the premium Big Eddy Float Coat™ (yellow) lives up to its name by providing safety and performance for serious water dogs (the kayakers, surfers, and rafters out there).
Check them out at ruffwear.com.