I started this dog blog a while back to have some fun writing about something I'm fairly well versed in: dog stuff. Sometimes I worry that I spend a little too much time thinking about dogs and dog stuff, but it's OK, I guess, 'cause it's all going to make me rich and famous one day. (Right? RIGHT?)
Nevertheless, believe it or not, there are other things I'm interested in, one of which is wine. I've been on a handful of tasting tours and really enjoy learning about wine and vinification, although the majority of my wine education allows me to do little more than denote Wines I Like versus Wines I Don't Like.
Anyway, all of the above considered, I was delighted to learn about the Stamford, Connecticut, company Whiner & Diner. They create awesome elevated dog feeders, beds, and toy boxes out of reclaimed wine crates from European and Californian vineyards. (I'd say they "upcycle," but I really hate that word, so I won't.)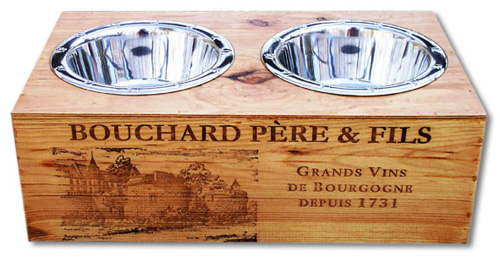 For some reason I feel like these would smell really good, kind of woodsy and wine-y mixed together.
Whiner & Diner's products are, of course, eco-friendly, which is really cool, and each feeder, toy box, or bed is completely unique. Pieces can even be personalized with your dog's name and/or other handpainted designs. Sweet!
Visit Whiner & Diner's web site to learn more about their unique pet products and other wine-inspired gifts.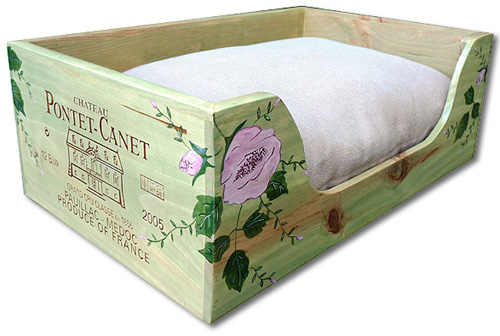 Tags: beds, bowls, cool stuff, handmade, home
Comments are now closed.