I was at the grocery store a couple days ago grabbing something quick for lunch, and on my way up to the registers I caught a glimpse of some packaging out of the corner of my eye that literally made me stop, turn around, and investigate. (I don't know a ton about graphic design — that's my husband's bag, after all — but I'm pretty sure provoking such a reaction is pretty much the point.) Although I didn't even really realize I was in the pet-supplies aisle at the time, I was stoked to see that what had caught my eye were Bit-O-Luv dog treats.
How much do I LUV this packaging?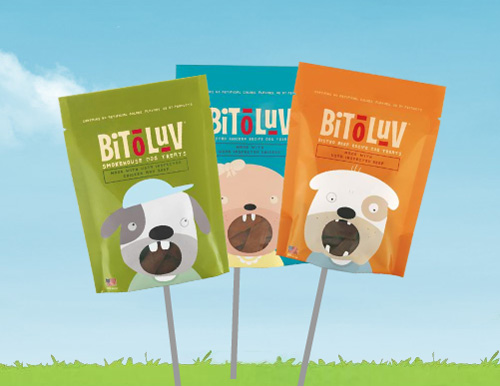 I had heard of Bit-O-Luv when they first debuted a few months ago, but this was the first time I actually had seen them in a store. Bravo, Bit-O-Luv, on your super brilliant package design.
I checked out Bit-O-Luv's web site and discovered their treats are made in America with USDA-inspected meat, no wheat gluten, and no by-products, and Bit-O-Luv also donates a portion of profits to local dog-related charities. Pretty cool, huh? Their fun web site also allows users to report lost or found dogs and connect with other dog owners in your area for park dates and meeting new pup pals. All in all, it sounds like a pretty cool company.
So I forgive you, Bit-O-Luv, for suckering me in with your cute little snaggle-toothed cartoon doggies on your labels. You got me, fair and square.
Tags: graphic design, treats, Web sites
Comments are now closed.