You may have heard about Pawsley by now, a new social networking and shopping site that's launching later this week. If you haven't heard of it before, well, you just did. Ha!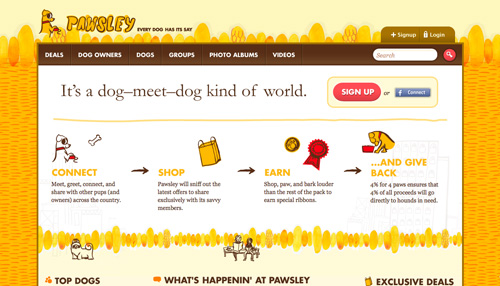 I got to sniff around on Pawsley last week for a little pre-launch sneak peek (dog-blogger perks abound) and see what it's all about. The best way I can describe it is Facebook meets Dogster meets Groupon, with all-around better graphic design. Pawsley is a community of and for dog owners to meet and share, take advantage of special deals, and help out dog charities. Here's Mike Pacifico, founder of Pawsley, explaining it a little further:
Put simply, Pawsley is an interactive social networking and social shopping experiment created for dogs, their owners, and people that sell dog-related services or stuff. That's it! We've taken the familiar concept of social networking, applied it to our furry friends, tossed in some ribbons, and injected a bit of shopping so that our members can leverage their collective love of canines – all in a cool looking way, of course!
What made us decide that the digital world needed yet another dog website? Well, the idea came about as our pooch Maeby was sniffing around the web looking for a cool site to play. She couldn't find one. Although we found a few virtual dog parks out there, none were created with the care and professionalism of a dedicated team that viewed the user experience and design as top priorities. But a social network for dogs isn't a revolutionary idea, so we added some cool new twists to keep people (and pooches) coming back!
But we really DO love dogs (not just our own!), so we were committed from the start to give back to the dog community at large – that's where 4% for 4 Paws comes into play. We promise to donate 4% of all proceeds to dog-related charities and causes throughout the country.
Sound interesting? You can scamper on over to Pawsley to learn more and sign up.