Happy Friday, y'all! We're stoked to introduce to you Maggie and Mac, our newest Best Phriends!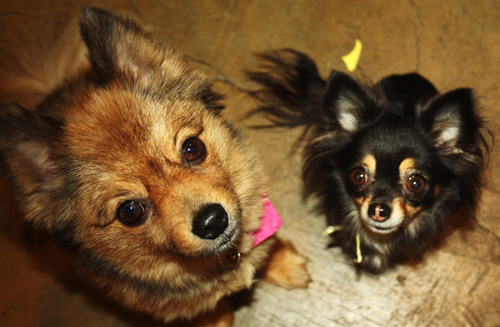 Name: Maggie
Age: 3 years
Hometown: Eugene, Oregon
Owner: Brittany
Breed: Pomeranian
Nicknames: Maggot and Mooie
Arrival story: She had a rough start and luckily a nice woman decided Maggie's current situation was not in her best interest….from then on she and I have been attached at the hip!
Name: Mac Lethal
Age: 2 years
Breed: Kline Spitz
Nicknames: Mac-erz, Macceroni, and Creep!
Arrival story: Mac was from a poor breeding situation, I had seen him in a covered wooden trailer that a car was towing in the middle of the summer. We took him home immediately and it has been a blessing.
Mac:
Most annoying habit: Sniffing or licking peoples feet….he's a foot guy!
Best friend: Kluey, his better half, my mother's pit bull.
Favorite place/best vacation: The off leash coast trips with his dad and I
Maggie:
Most expensive item ever chewed: A brand new pair of Ugg boots
Favorite food: Gummy candies. Don't leave any in her reach.
Favorite toy: Paper…she's a weird weird dog.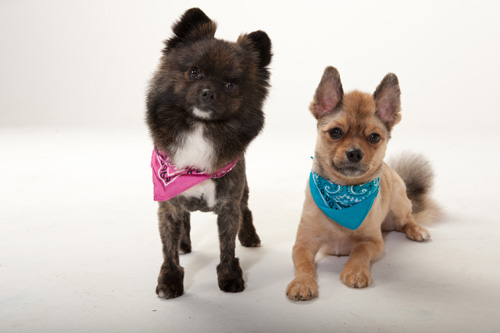 If Mac had a job, what would it be? He is already employed and he loves his job. He is a people greeter and product tester at Wags! Dog Emporium.
In a movie about Mac's life, what actor provides his voice? He would be Kenickie from Grease — same voice, pick up lines and all, you have to meet this dog!
Upon graduation from training school, Mac is named… Best Kisser (be careful, he's quick)
What's the biggest trouble Maggie's ever gotten in? The time I left the house for an hour while she was happily taking a nap and I came home to find an entire ream of paper that weighs more then her measly 5 lbs shredded all over the house.  It looked similar to that of rice being thrown at a wedding. This paper was everywhere. I got home and she was laying in her sweet little bed trying to let our older dog at the time take the heat for it….the dead giveaway was that Maggie had a little piece stuck to her nose. Bad Pom-Poms.
If Maggie wrote her biography, what would it be titled? How Rhinestones and Sequins Are Still Fashionable: The Glamorous life of Miss Maggie Parton
If Maggie were in high school, who would she sit with at lunch? She would probably sit at her own table with an '80s inspired clique, somewhat gaudy and glitzy.