"STELLLAAAAA!!!" (A Streetcar Named Desire? Anyone? No?) Today's Best Phriend is Stella, a two-year-old rescued Schnoodle. "SCHNOOOOODLE!!!!!"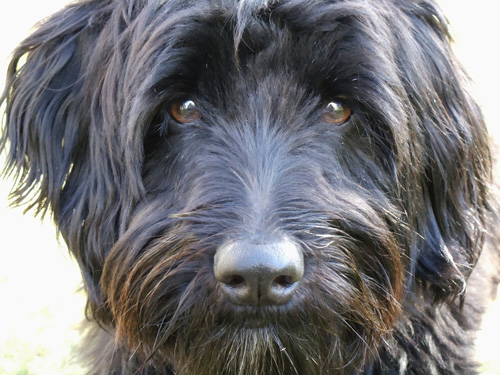 Name: Stella
Age: She'll be three on Sept 30th of this year
Hometown: Came from Louisiana……now lives in Portland, ME
Owners: Mary and Rob
Breed/s: Schnoodle
Nicknames: Stella Ballou, Stella Bella, Stinkarella
Arrival Story: I found our beautiful girl on Petfinder.com.  She was sponsored by a local shelter, but was rescued from a high kill shelter in Louisiana and lived with a foster family there until we adopted her.
Favorite food: Treats of any kind!
Special talents or skills: She loves to stand on her hind legs with her front paws on your shoulders and kiss your whole face (you have to be kneeling or sitting down….she's kinda short!)
Biggest fear: Baths
Special awards or achievements: Won 2nd place in the Mystery Mutt Category at Woofminster 2009 put on by Planet Dog
Most annoying habit: She's a bed hog!
Arch-nemesis: SQUIRREL!!!!!!
Most expensive item ever chewed: Laptop cable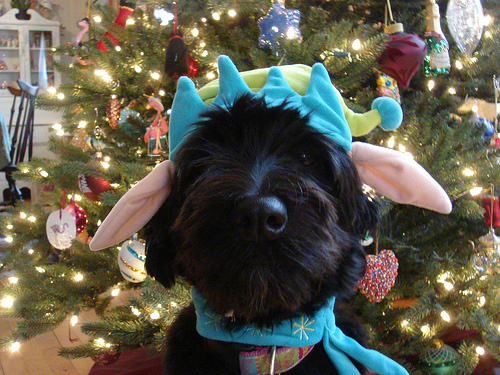 If Stella were in high school, who would she sit with at lunch? She would socialize at every table because she loves everyone!
Upon graduation from training school, Stella is named Best ____ or Most Likely to ______? Class Clown/Most likely to star on her own reality show
If Stella were on "Survivor," why would she be voted off the island? Voted off for pooping on the beach and not picking up after herself.
If Stella had a job, what would it be? Stella is a princess and would NEVER work…unless it was as a supermodel.
Stella…Stella…Stella…..she is the most wonderful girl!  We had lost our black lab, Sadie, after 13 years….our hearts were broken into a million pieces and I couldn't live in a house without a dog!  I searched Petfinder.com for weeks…and came across Stella's photo. My husband was nervous about a rescue dog that we had never met, but there was something about her sweet little face…..I had to have her. From that very first day…she fit right in!  It was like she had always lived with us….everyone thinks we rescued her, but she rescued us!
She's even got her own blog.
You're awesome, Stella, and we're so happy you found a perfect forever home! Stay tuned to future posts, pups, to see how you can be featured as one of our Best Phriends.
Tags: Best Phriends
Comments are now closed.