It's a big day! Kate and William got married, of course. But also, we get to meet a new Best Phriend!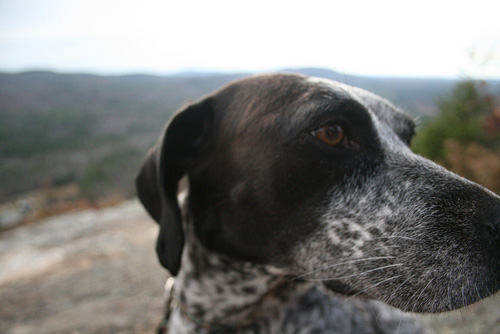 Name: Misty Lynn
Age: 5
Home: New Hampshire
Owner's name: Betty
Breed/s: German Pointer/Hound Mix
Nicknames: Nuggets, Stinky
Arrival story: Misty hails from the great state of Tennessee, where according to our paperwork, she had a liter of nine (yes nine!) puppies. She was practically a puppy herself when she had all those pups at the age of one. Unfortunately, we never got to meet her puppies since we adopted her when she was almost two from a local animal shelter.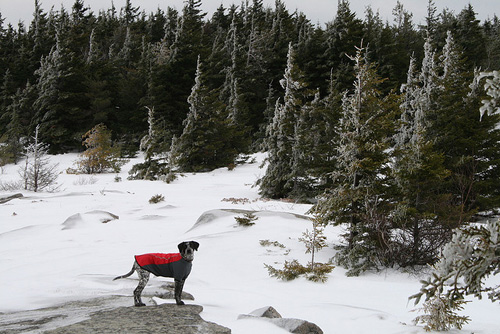 Favorite food: Cat food. Really! She would much prefer that I put the cat's kibble directly into her bowl.
Special talents or skills: Hearing a gunshot or firecrackers from miles away. If Misty hears any loud gunshot or bang from fireworks she runs into our bedroom to hide. Since she is a shelter dog we really don't know much about her past circumstances. Even though she is a hunting dog by breed, she definitely doesn't like hunting.
Biggest fear: Okay, not only does our little hunting dog hate gunshots, but she also hates the water. So much for being bred to both point and retrieve!
Favorite toy: Squeaky toys
Special honors or achievements: Queen of Flushing Turkeys
Most annoying habit: licking the kitchen floor
Hobbies: Chasing chipmunks, going for car rides, and trying to trip passersby by suddenly lying down and exposing her belly for a rub
Favorite place: Anywhere outside that allows for free romping through the woods, a cozy fire, and a tent to curl up in!
Arch nemesis: Chipmunks!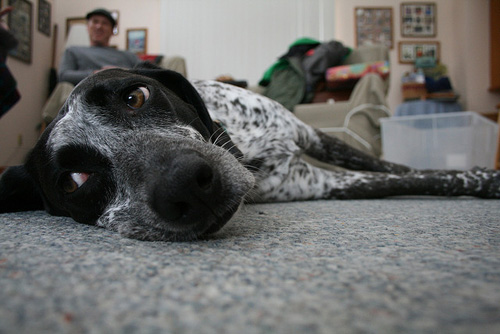 In a movie about Misty's life, what actor provides her voice? A sweet, petite southern belle.
If Misty were a superhero, what would her special power be? Misty's special power would most likely be invisibility. That way she could sneak up on unsuspecting chipmunks and other small game.
What's the biggest trouble Misty's ever gotten in? Misty was "red flagged" by our vet due the trouble she caused in just a few short hours. We left her so that the vet could run a few tests on a recent skin irritation. Apparently Misty wasn't happy with this and she somehow managed to open two locked gates and escape. She showed up at the front door thirty minutes later – covered in animal doo.
(Stay tuned to future posts to find out how your pup can be featured as a Best Phriend!)
Comments are now closed.