Have you ever noticed that dogs seem to like kinda stinky stuff? I won't go into detail, but I'm pretty sure you know what I'm talking about. I think this stink affinity is part of the reason Mingus and Dottie love fish-based foods so much. And it's why I giggle a little at the name of The Honest Kitchen's first fish-based recipe, Zeal, as I'm sure Ming and Dizz would gladly devour a bowl of it with just that very emotion.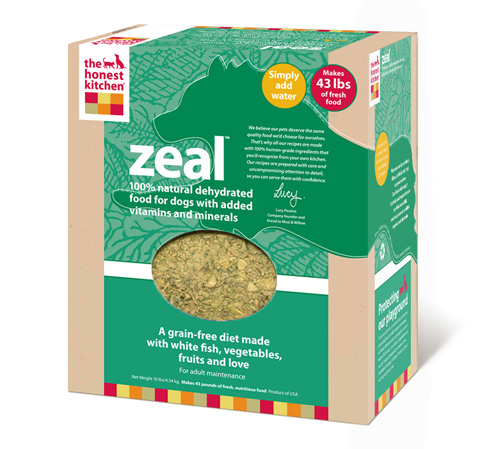 Like all of The Honest Kitchen's dehydrated raw foods, Zeal is made from minimally processed, 100% human-grade ingredients, and is free of wheat and preservatives like ethoxyquin, which I'm not really sure how to pronounce but I know is really bad.
Says Lucy Postins, founder and CEO of The Honest Kitchen, "Zeal was truly inspired by our customers. For years, pet owners have told us that their dogs have allergies or intolerances to conventional meat sources, and we're pleased that we can now offer this high-quality, human-grade recipe with minimal risk of allergies."
And on top of that big ol' pile of goodness, The Honest Kitchen will donate a portion of Zeal's profits to marine conservation efforts, including The Nature Conservancy, The Blue Ocean Institute and the World Wildlife Fund.
Zeal will be available in late September from The Honest Kitchen.
Comments are now closed.