You may have heard the story of Sugar before, as her quest for a new, happy life garnered her a bit of internet fame. Sugar's short life, though filled with pain and abuse, serves as a model of forgiveness, trust, and love.
Dropped at a Los Angeles shelter in a state near death, Sugar had been abused, burned with acid, and bore an infected scar from what looked like an amateur C-section job. (What the eff is wrong with some people? Guess what, turds? Acid HURTS.)
Through the efforts of shelter workers, community supporters, foster care, and rescue organization Molly's Mutts and Meows, Sugar nevertheless overcame these horrors (plus a diagnosis of skin cancer) and displayed an extraordinary ability to love, trust, and forgive despite her horrific past. Sadly, though, Sugar succumbed to complications from the abuse inflicted upon her before she was ever able to be placed in her forever home.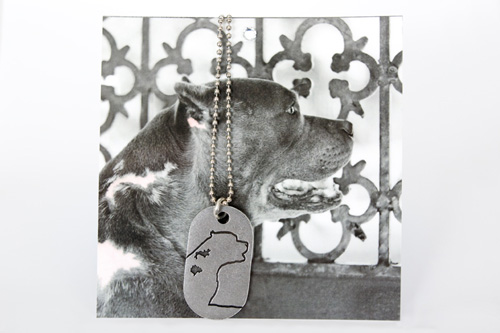 Kim Rodgers of Bark Pet Photography, one of the tireless supporters who worked to give Sugar a better life, created Sugar Tags in memory of the sweet dog who, despite the terrible ways in which humans had treated her in the past, "somehow learned to forgive, trust, and ultimately love those around her." All profits from the sale of Sugar Tags go to Molly's Mutts and Meows, which spent more than $8000 trying to help nurse Sugar back to health.
In addition to helping support Molly's Mutts and Meows, Rodgers hopes that Sugar Tags will help spread Sugar's story of courage, forgiveness, and love.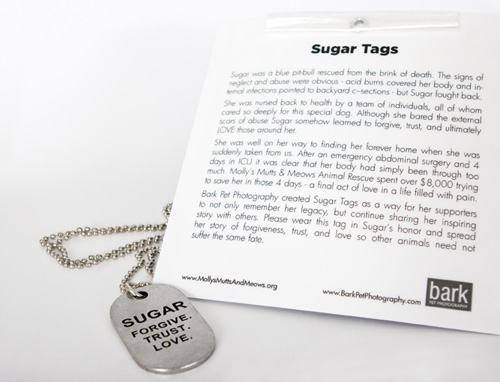 You can fetch Sugar Tags from Bark Pet Photography.
Now! Dry those tears and get to work.
Tags: charities, dirtbags, rescue, small dogs
Comments are now closed.