Take a touching fish-out-of-water tale, a love affair with a handsome gardener, rich descriptions of handmade Italian food and wine, and set it all in the picturesque, romantic Italian countryside… how do you make this story better? Why, add a dog, of course.
Marcus of Umbria: What an Italian Dog Taught an American Girl about Love is Justine van der Leun's story of her turbulent year in a tiny Italian village. Leaving her Brooklyn job and home behind, Justine moves to Italy seeking love and adventure and ends up, to her surprise, finding most of what she's seeking in a rescued pointer she names Marcus (who, actually, is female, which might be a little confusing, but actually makes total sense). Through her humorous, sometimes heartbreaking memoir, Justine offers insights on cultural differences, "finding oneself," and finding love in unexpected places — or creatures.
Justine was kind enough to sit down and answer a few questions for phetched. Enjoy!
phetched:  Although I grew up with dogs, I was never really deeply involved in their care when I was a kid – so when I found my first (i.e., very own) dog, Zoey, in a field near my house on my way to work one day, I suddenly had to learn a whole lot about dogs really fast. What was the most challenging, shocking, humorous, or intriguing thing you learned from Marcus once you decided to make her your own?
Justine:  I always adored my dogs while I was growing up, but our relationship stayed the same for their entire lives—probably because I was not their primary caretaker. I threw. They fetched. I fed. They ate. They pooped. I…you get the point. Now, I continue to be surprised and thrilled as my relationship with Marcus deepens and evolves as time goes on. At this point, I can viscerally feel what she needs from me, and vice versa.
Your book is about you and your dog, of course, but to me it's very much a book about relationships. To you, what's the most important thing dogs teach us about relationships?
What don't dogs teach us about relationships? They teach us about devotion—who stands by you more solidly than your dog? They teach us about forgiveness—they never hold grudges. They teach us the importance of quiet companionship and partnership. And by the fact of their otherness, they teach us to get out of ourselves and to look at situations for a new perspective. And of course, above all, dogs teach us how to love purely, openly, shamelessly.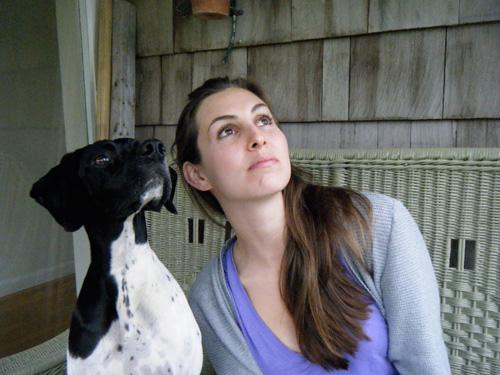 A big Hollywood production company buys the rights to Marcus of Umbria and, unfortunately, decides to make it into one of those corny talking-animal vehicles. Who is cast to provide Marcus' voice?
I think that if we could convince Keira Knightley to do a high-pitched, childlike voice, she'd be the woman for the job. Even though Marcus hails from Italy, she's an English pointer and I'm pretty sure she'd have a British accent.
OK, so say Marcus really could talk, and she accompanies you on a book tour. What do you think she'd tell your audiences she wants people to take away from her/your story?
Marcus is bird-obsessed and I suspect she'd take the opportunity to put forth her thesis about why humans should make all public spaces friendly to dogs stalking critters and birds. Once that was out the way, and assuming no birds were present in the audience for her to point at, she'd probably make a pitch about how love really can be found in the most unexpected of places. She might add that her journey from abandoned Umbrian farm dog to hipster Brooklynite is proof that you never know how your life will turn out.