Recently a representative for The Company of Dogs, which distributes Nina Ottosson toys, sent Mingus and Dottie the Tornado and asked if we'd like to give it a try. You've probably seen Nina Ottosson's toys before: They're really well-designed brain games for dogs that exercise dogs' critical thinking and investigative skills.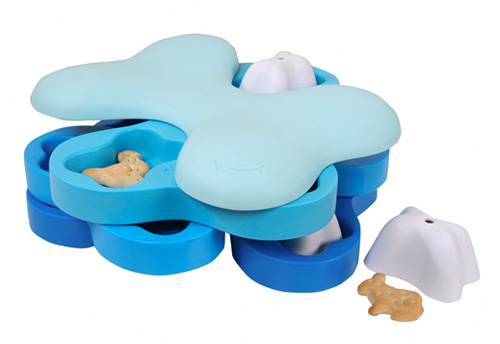 The Tornado is comprised of four stacked bone-shaped wheels with treat compartments that rotate on a central axis. The idea is to hide treats in the layered bones and have your dog figure out how to spin the bones to find the treats. Ottosson gives the Tornado a skill level of "hard," and I assume that if you're a dog, it probably is.
One thing I really like about the Tornado is it gives you several options for exploratory play with your dog: the game includes removable plastic bones to increase the difficulty level for your especially brainy pooch. It's made of sturdy, durable plastic – which is good, because soon enough Mingus would be batting it around the floor with his paws.
The Tornado comes with a instructional DVD that provides directions for use and ideas for interactive games — but I'm really one to jump right into things rather than waste time on instructions. So I grabbed some treats and dove right in.
I decided to give Dottie the first shot at the Tornado. While many pet parents are quick to laud the intelligence of their dogs, I will freely admit that when it comes to brains, Dottie is decidedly average. Once she picked up on the basic idea of the game, though, she caught on pretty quickly to the idea of turning the wheels to uncover the treats. I have to say I was pretty proud.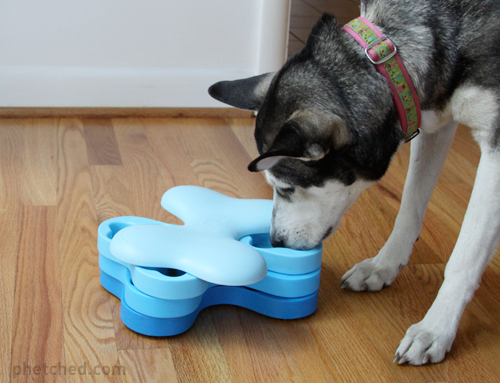 Mingus got the second go at the Tornado. While Dottie has to rely a lot on her looks to get by, Mingus is smart enough to build bombs. Your boy is scary smart. And while Dottie relied on that giant schnoz of hers to root out the treats, Mingus got into it with both snout and paws.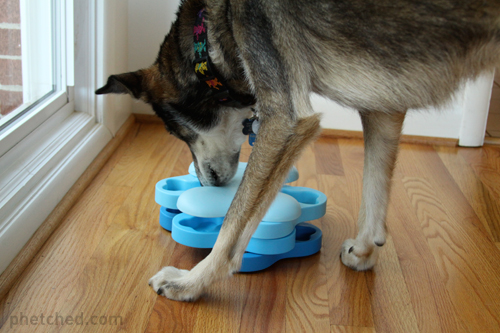 While he didn't seem overly challenged by the Tornado, Mingus definitely enjoyed it. Here's a video of his second go at it. (Don't listen to my voice. It's stupid.)
Next time we play, I'm going to try the removable bone treat-hiders out on Mingus. I think he's ready.
Watching the pups enjoy the Tornado definitely makes me eager to try more of Nina Ottosson's toys. The Tornado is also dishwasher-safe, which is great, 'cause that thing is totally covered with slobber.
You can fetch a Tornado (or other Ottosson toys) all over the interwebs.