Today's featured Best Phriend is Toby, who's celebrating four years in his forever home this week (thanks to a coin toss!). Congratulations, Toby!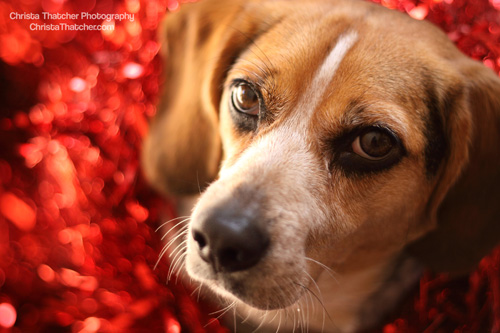 Name: Toby
Age: 4 years
Owner: Christa
Hometown: Des Moines, IA / Current city: Los Angeles, CA
Breed/s: Beagle/Bluetick Coonhound mix
Nicknames: Toby Tobe, The Tobes, Toby Wan Kenobi
Arrival story: My husband and I had decided we wanted to adopt a dog and went to see Toby (who was then named Scrappy) at the Animal Rescue League (ARL) of Iowa in Des Moines. He had us at hello with his sad eyes, wagging tail, and outgoing personality, but we decided to wait and not make an impulse decision. We looked at other dogs, but kept coming back to that lovable little beagle. A couple days later, we realized that we needed to make a decision. At that point, it was between Toby/Scrappy and another dog. We decided to flip a coin: heads = Toby, tails = the other dog. Obviously it landed on heads (I have a feeling we would've kept flipping until we landed on heads anyway), and rushed to the ARL about 30 minutes before they closed, swooped him up and took him home. Adopting him was one of the best decisions we've ever made. We've never told him he was the result of a coin toss. We wouldn't want to offend him. Gosh, I hope he doesn't read this…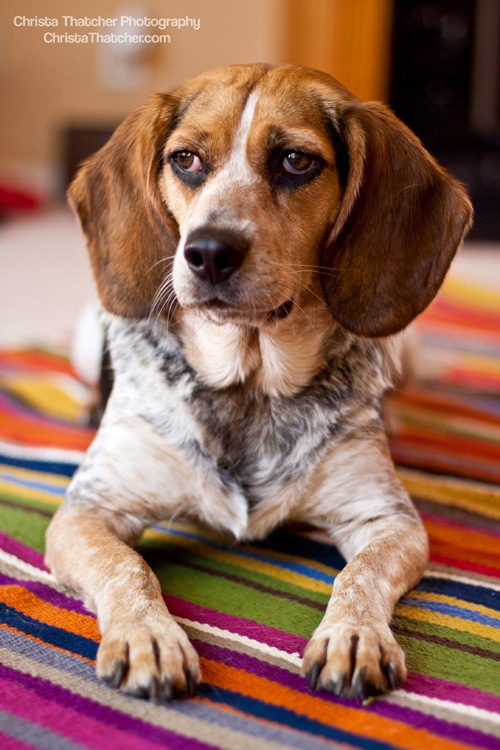 Favorite food: We joke that he's part goat. He will literally eat anything. The only thing he's ever spit out is a piece of lettuce.
Biggest fear: Receptacles. Boxes (any size from jello box to giant UPS box), bags, hampers. If it can hold something, he's afraid of it.
Favorite toy: His soft squeaky bones. We have a half dozen of them in various stages of destruction.
Best friend: His Grampy
Most expensive item ever chewed: A 2×3' square of freshly-laid Linoleum. Absolutely destroyed. He was so proud of himself, too.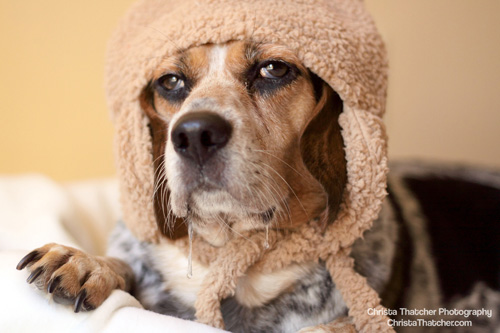 Upon graduation from training school, Toby is named Best… Personality or Most Likely to… Need Further Classes.
If Toby were on "Survivor," why would he be voted off the island? He'd either eat the Immunity Idol or gas everyone out of camp.
If Toby were in high school, who would he sit with at lunch — jocks, nerds, freaks, preps, geeks, etc.? He'd be the kid going from table to table asking, "Hey, are you going to eat that?"
To say Toby's a great dog is a huge understatement. Everyone who meets him falls in love with him, just like we did.
We're not currently accepting applications for more Best Phriends – but check back in future installments to find out how your pup(s) can be featured.