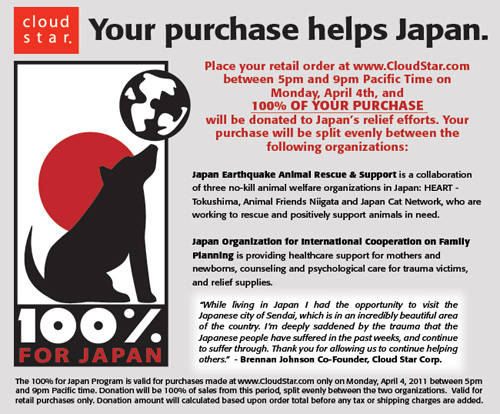 Cloud Star, which we reviewed a few weeks back, is holding a fundraiser this afternoon from 5:00 to 9:00 p.m. Pacific time. During this period, 100% of every purchase made at Cloud Star's web site will be donated to Japan Earthquake Animal Rescue & Support and Japan Organization for International Cooperation on Family Planning.
Says Brannan Johnson, co-founder of Cloud Star: "While living in Japan, I had the opportunity to visit the Japanese city of Sendai, which is an incredibly beautiful area of the country. I'm deeply saddened by the trauma that the Japanese people have suffered in the past weeks and continue to suffer through. Thank you for allowing us to continue helping others."
Visit cloudstar.com from 5:00 to 9:00 p.m. Pacific time (8:00 p.m. to 12:00 a.m. Eastern time) to help out.