Y'all might have seen this on The Bark's blog yesterday. The U.S. Postal Service has announced the release of a new set of stamps designed to bring awareness and attention to animal rescue. The stamps, designed by Derry Noyes of Washington, DC, feature photographs by Sally Andersen-Bruce of former (now adopted!) shelter pets in New Milford, Conn.
Oh, sorry. For those of you younger folks still trying to catch up: See, stamps are these things you put on letters and other things you send through the mail. Still confused? Hmm. Google it?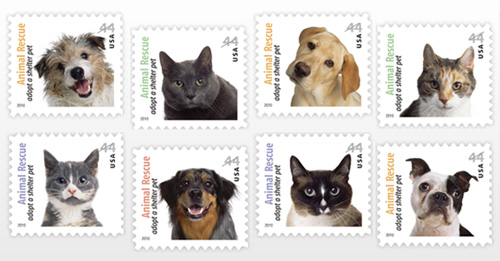 The stamps are part of a campaign called Stamps to the Rescue in partnership with Ellen DeGeneres and Halo pet foods looking to provide meals and homes to adoptable pets. The stamps won't officially be released until April 30th, but you can pre-order them now from the Postal Service.