I saw these nametag-inspired dog tags on Dog Milk the other day, and I'm going to repost them here because a) I love them and b) I'm a lazy blogger (not really. I was busy meeting a deadline for my far-less-interesting, but better-paying, day job).
When we go to the dog park, my husband and I love to check out tags to learn the names of the dogs we meet. Seeing one of these on a dog's collar, as if the pup's at a professional development seminar or something, would give me a good chuckle.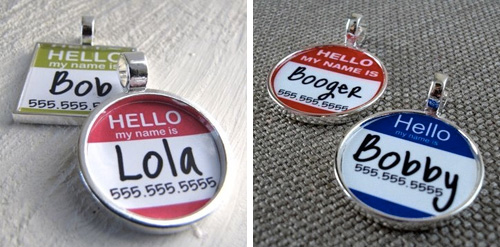 You can fetch silver-plated, handmade, round or square "Hello, My Name Is" ID tags from Animal Outfitters.
Tags: accessories, tags
Comments are now closed.