Des Moines, Iowa, painter Stephanie Fitzsimmons is good people. She passionately supports dog rescue and adoption and has even participated in convoluted, multi-state rescue efforts and has taken in a passel of homeless dogs herself. She's super nice and friendly and into wholesome stuff like photography and travel and the outdoors. Even if she weren't such a good person, though, I'd still think her paintings were wicked cool.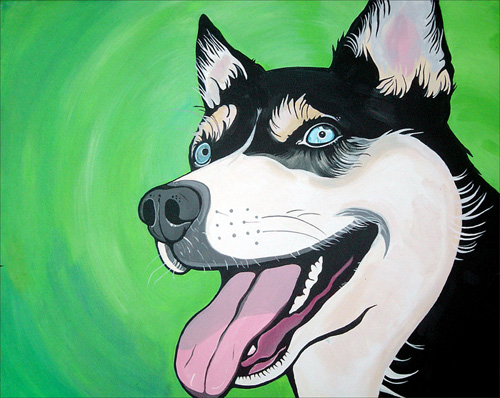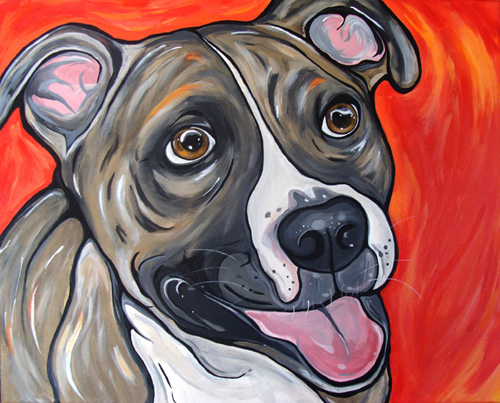 The first painting above is of husky mix Takoda, one of Fitzsimmons' dogs. Steph creates many of her paintings from photographs, and she explains her process step by step here.
Fitzsimmons is so kind that she even agreed to submit to a short interview for phetched:
1. Is there a breed (or a particular dog) you haven't had the opportunity to paint yet that you'd really like to? Why?
I'm dying to paint an English Bulldog! I went to a "beautiful bulldog" competition recently and snapped photos of several. I am totally captivated by their wrinkly, colorful and expressive faces!
2. I love the bright colors in the backgrounds of your paintings. At what point in your process do you usually decide what color the background will be?
When I look at the dog's photo, I usually have an immediate image in my head of how the painting might look including the background. I like to choose a color that creates a vibrant contrast against the dog's coat color. If I'm painting it for someone, I first ask if they have a preference on background color – a color they like or something that fits their home decor. If it works, I will use it.
3. You like taking photographs of dogs, also. What's the craziest breed mix you've ever seen?
Basset Hound mixes are always the craziest! A few weeks ago I saw a dog that looked like a Basset Hound wearing a brightly spotted English Setter coat, with a large and wrinkled mastiff-style head. The most unique dog I've ever seen! There is a photo on my blog.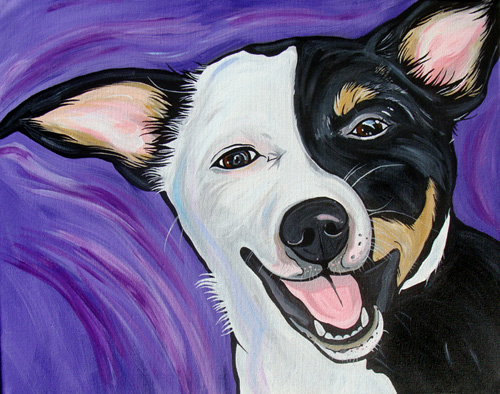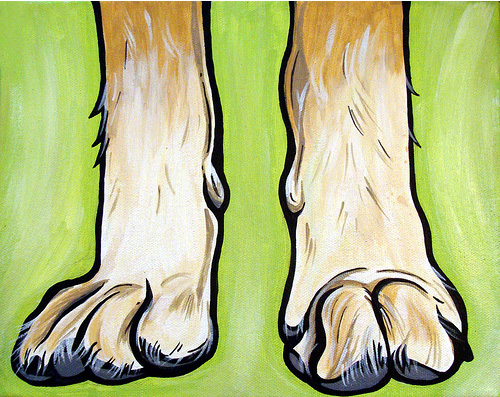 4. We've all seen those poor people who get portrait tattoos that look frighteningly nothing like the photograph of their loved one. When you do commissioned paintings from photographs, do you ever worry that a dog's owners will feel you haven't "captured" their dog well enough in your painting?
I am my own worst critic! I am always nervous showing the owner the finished painting. Fortunately everyone has been totally satisfied so far, and occasionally I am told that I captured a detail or an aspect of the dog's personality that wasn't even visible in the provided photos.
5. You and your husband live with a pack of five fairly large dogs. If your life were made into a reality show, what would it be called?
Fuzzy Logic: Confessions of Crazy Dog People
—
Thanks, Steph, for answering our questions! And as for the question that you're probably asking, Dear Reader, "Can Steph paint my dog?" — the answer is yes! You can find out more about WOOF Factory and inquire about commissions on Fitzsimmons' web site, here. She also has a few paintings for sale on Etsy.
Tags: art, Etsy, flickr, Interviews, rescue
Comments are now closed.