Our newest Best Phriend is a handsome Staffy cross from Down Under. His mom Ruth is a photographer, and Chopper's quite the dashing model, don't you think?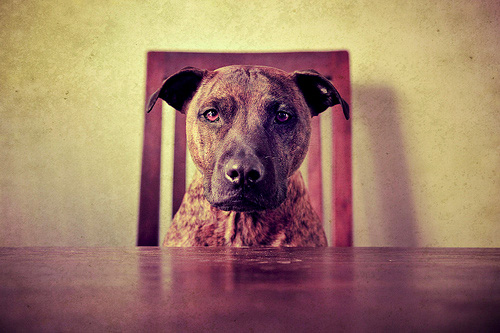 Name: Chopper
Age: nearly 5
Owner's name: Ruth
Hometown or state: Sydney, Australia
Breed/s: Staffy x [no really, we have the DNA test to prove he's exactly 50% Staffordshire Bull Terrier crossed with an unknown crossbreed. Money well spent!]
Nicknames: Chopper Chops, ChopChop, Chopsy, Whingeypants, The stripey one, The Dude… I could go on, our dogs rarely get called by their real names!
Arrival story: We took on Ivan [7yo Husky] in March 2006 and rescued Angel [1.5yo Staffy] three months later. When I told my husband in September that I wanted to foster a dog I promised him that I wouldn't keep it. I did mean it when I said it, but Chopper won us both over pretty quickly! He was our first foster and our first, but not our last, foster failure!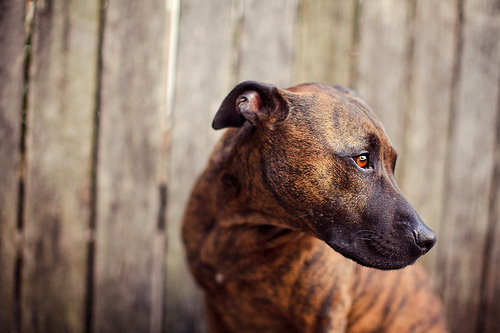 Favorite toy: He's not choosy. He'll make anything into a toy… door wedges, flip flops, junk mail, socks, etc. Things that squeak are really high value though.
Most annoying habit: LICKING!!! Everything. If he can't reach you he'll just lick the air. It's soooooo annoying!
Best friend: Our Staffy, Angel. They play really rough and they cuddle really hard. They're so in love with each other that being around them can make you feel like a third wheel!
Most expensive item ever chewed: Before I knew better than to leave him home alone with washing on the line he destroyed my favorite duvet cover. That was a bad day. The plants I had accepted were fair game. We knew the garage needed to be kept closed as he'd already eaten the blood and bone plant food and the tuna oil my husband used for fishing. We figured the BBQ cover needed replacing anyway, but there were no warning signs that he was plotting to start pulling washing off the line!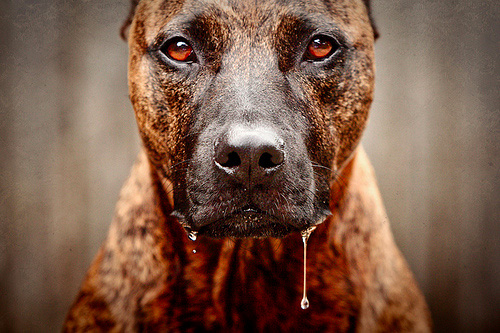 If Chopper wrote his biography, what would it be titled?
Undiscovered
Chopper's destined to be a famous model or actor. Or model turned actor! If any talent scouts are reading this, his rates are entirely reasonable and he's a consummate professional. He's just waiting for his big break!
What's the biggest trouble Chopper's ever gotten in?
He ran away from home twice in the one day when we were overseas on holidays. A friend was minding the dogs, and Chopper was still an unruly pup with huge exercise and discipline needs. He knocked over one of the bins and used it to jump onto the other one and get over the fence. We lived on a very busy road and luckily our 80yo neighbor caught him and was able to put him back in the yard. Not long afterwards he did it again. Thankfully a very kind stranger caught him and brought him to the vets. He gave us a real scare, but luckily he never tried it again.
Chopper thinks farts are funny. He once walked up to me and farted, then smiled and started wagging his tail. Clearly he doesn't smell what we smell!!
Would you like your pup's name in lights (well, sort of) as part of our Best Phriends crew? Just send an email containing your name and the name(s) of your pup(s) to bestphriends[at]gmail[dot]com.
Tags: Best Phriends, photography
Comments are now closed.