Our newest Best Phriends are two brothers-from-different-mothers, Tron (little spots) and Orbital (big spots), who have moved cross country from North Carolina to California.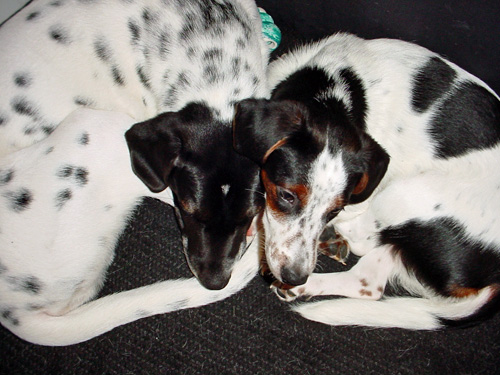 Name: Tron, 6 years old
Hometown: Originally from Clayton, North Carolina, but has since become a Cali dog
Breed(s): Mom was a coon hound, think dad was a dalmatian
Nickname: Cap'n Ron, Twenty-Nine
Arrival Story: My mom saw a sign for me in PetsMart.  My biological mommy was adopted from a shelter, and to her adoptive mommy's surprise, she was pregnant. That lady wanted us to go to a good home, so she interviewed people. I claimed my mommy, so they let her adopt me.
Favorite Food: Anything I can put in my mouth! But my mommy is starting a pet bakery and retail site, and she lets me try everything from the clothes to the yummy treats.
Biggest Fear: Being left behind
Best Friend/Favorite toy: Aside from Orbital, my other best friend is the cat, Draco. I like to push and pull him around the floor.
If Tron were on "Survivor," why would he be voted off the island? For being the Russell of the dog world, especially when food is involved.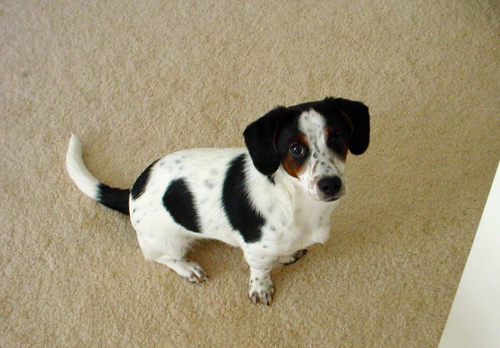 Name: Orbital, 6 years old
Hometown: Originally from Charlotte, NC. Moved to Raleigh, NC, and then moved across country to become a Cali boy
Breed: Jack Russell/ beagle mix
Nicknames: Orbie, Orberto, Herbie the Love Bug
Arrival Story: Mommy was shopping in Charlotte. She and my Grandma popped into PetsMart to get something for Tron, and they were having an adoption weekend. People kept picking me up, but no one adopted me until my mommy picked me up and didn't put me down.
Favorite Toy: Rope pull toy
Arch-nemesis: Gypsy the cat
Hobbies: I love to curl up with my mommy when ever possible.
If Orbie had a job, what would it be? Orbie loves to clean his brother's paws, so he would be a nail technician.
From mom, Kendel: People always think Orbie is Tron's pup since their coats look so similar, but Orbie is actually a month older then Tron. Before Orbie came along Tron's head was completely black; after, he started getting a little brown in the same spots of his face as Orbie's. I think they would be lost without each other.
Tron and Orbie's mom has started an Etsy shop, Kennel Kouture, featuring handmade toys and accessories for pups and cats.
If you'd like your pup to be featured as one of our Best Phriends, just send an email with your name and your pup's name to bestphriends (at) gmail (dot) com!
Tags: Best Phriends
Comments are now closed.