I'm not a huge fan of retractable leashes at all. (Actually, I have used several bad words in reference to retractable leashes before, but I know a lot of dog owners like them, and I don't want to go too far and possibly offend any one of my seven or eight readers out there.) I spotted the Quirky Kōsoku retractable leash on Pawesome recently, though, and like Kit DeLuca, I think it's got potential.
The Kōsoku leash was developed by Quirky based on an idea submitted by reader Sara Carpenter. Now available for presale, it features a retractable 6-foot leash, a special pocket for waste bags, reflective tape for safety, and a shock-absorbent handle for ergonomic comfort.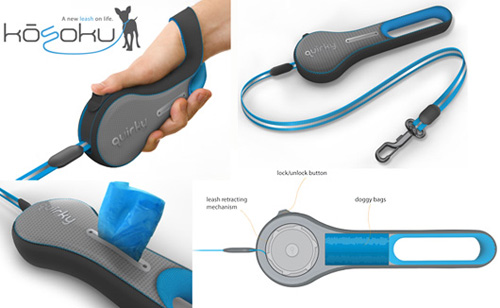 (image credit: pawesome.net)
Pretty cool, huh? (And if you got that Pretty Woman reference up there, then I think you're pretty cool.)
The Kōsoku leash is currently on presale at Quirky.
Comments are now closed.