Our new Barkworthy series highlights dog-friendly and dog-focused organizations and events.
Southeastern Guide Dogs is a truly remarkable organization. At their Palmetto, Florida, facility, they breed, raise, and train assistance dogs that go on to give visually and physically impaired individuals mobility and, therefore, independence. What's truly amazing is that Southeastern Guide Dogs, a nonprofit organization, accomplishes their work relying 100% on donated funds – providing assistance dogs to their students completely free of charge.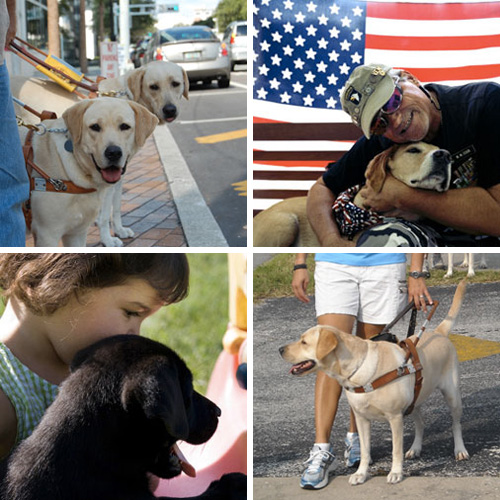 SE Guide Dogs breeds and whelps their pups onsite (primarily labs, Goldens, and collies) and relies on dedicated volunteers to help socialize the pups for work in the real world. (If you're in the mood to squeal a little, check out Southeastern's puppy cam.) The pups are then trained by skilled handlers to participate in the Paws for Independence program, which provides assistance dogs to the visually impaired, or Paws for Patriots, which provides assistance and therapy dogs to visually impaired and physically disabled veterans. Dog recipients and their canine match then attend training together at Southeastern's facility.
The pups who don't quite make it as assistance dogs? They enter the Gifted Canines program, where they learn such jobs as drug detection, arson detection, search and rescue, or specialized therapy – or are offered for public adoption, where they use their training to bring joy and love to their families.
I only wish I lived closer to Southeastern's facility so I could volunteer as a puppy hugger or dog walker. Be sure to stop by Southeastern Guide Dogs' site to learn more about their amazing organization.
Tags: Barkworthy, charities
Comments are now closed.