If Mickey and Kayloo look familiar to you, you might know them from the hilare blog their mom writes, Fido & Wino. Mickey and Kayloo hail from British Columbia, Canada (our first Canadian Best Phriends!) and are a ridiculously cute and ridiculously hilarious pair.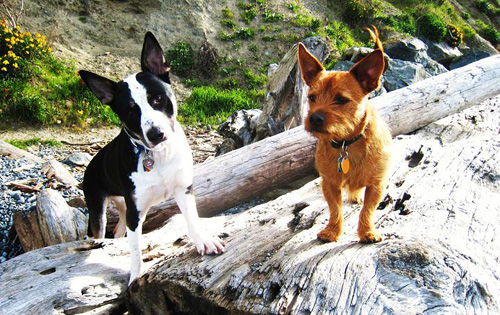 Name: Mickey
Age: 2 yrs 2 months
Breed(s): Chihuahua cross
Arrival story: We (ignorantly) bought Mickey through a broker. It was after this experience we learned of the importance of adopting from a shelter/rescue.
Favorite food: Cheese
Special talents or skills: He is the perfect gentleman on leash
Best trick: "Buddha" (sitting pretty) and then he falls straight down into "down." It's hilARious.
Best friend: Kayloo
If your pup were in high school, who would he/she sit with at lunch? Jocks, nerds, freaks, preps, gleeks, etc.? Mickey would sit by himself because other people are stupid.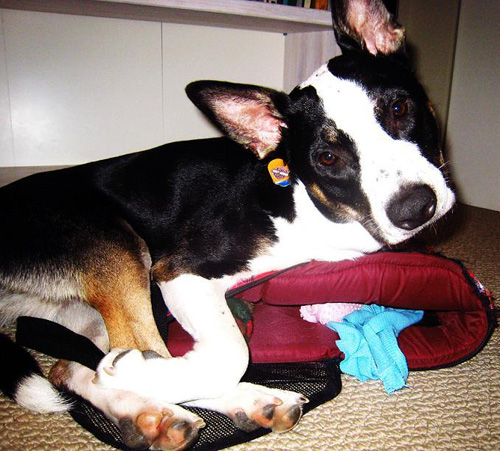 Name: Kayloo
Age: 1 yr 8 months
Breed(s): Pittie/collie cross (she's a rescue, so we're not exactly sure of her mix)
Arrival story: After we got Mickey, we knew we wanted to get him a buddy. We spent lots of time on Petfinder.com… and then we saw Kayloo's picture and fell in love, went to meet her and all her gangly goofiness, and fell in love some more.  Then she came to our house for a home visit and puked all over our floor, and we fell in love a hundred times over.

Favorite food: All of it
Special talents or skills: She can tilt her head so far she almost twists it right off
Favorite toy: She likes chewing on Mickey
Most annoying habit: Farting
Best friend: Mickey
If your pup were in high school, who would he/she sit with at lunch? EVERYONE. Seriously. All the kids would invite her to their parties, the toughest teachers would give her extra marks so she would pass, the lunch lady would give her free jello…. and she would love them all equally. AND she would make sure Mickey always got an invite.
Kayloo inspired a project called the R.O.A.R. Squad. It stands for Rescue Owners Are Rockin', and the whole idea is to make adopting a rescue THE coolest thing around. We're looking for at least one rescue owner from every state in the US and every province in Canada by April 2011. Have a rescue? Join us!
If you'd like your pup(s) to be part of our Best Phriends gang, just send an email with your name and the name(s) of your pup(s) to bestphriends[at]gmail[dot]com.
Tags: adoption, Best Phriends, Canada, rescue
Comments are now closed.