Painter Gwen Fox had earned recognition and accolades for her abstract impressionism before she ever decided to paint a dog. Grief-stricken at the loss of her heart dog, a German shepherd named Annie, she set about to paint Annie's portrait. Finding the process both inspiring and healing, she began painting pups from the local humane society. The resulting shelter dog series is all at once beautiful and heartbreaking.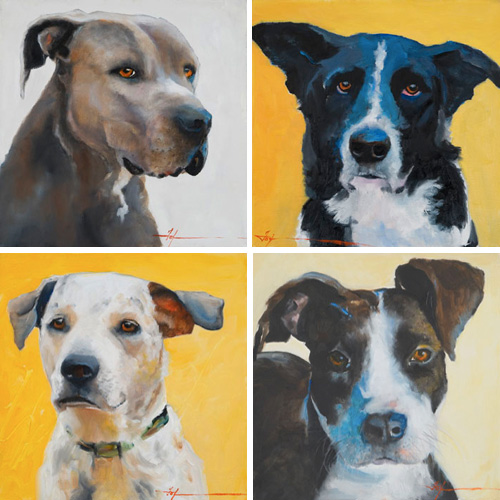 Says Fox on her blog:
I decided to do a portrait of this gorgeous spirit [Annie] and discovered I could translate the feeling within the dog. In other words, I painted its personality… I went to the local Humane Society and walked down long rows of lost souls. Some forgotten on purpose while others were sure their owners were coming any minute… Their faces tell it all — how could anyone not love these dogs? Doing this series has been a huge blessing. What have I learned? I have learned that dogs speak.  They are proud, they are scared, they are screaming for us to care. The young ones just look and say "let's play"….. totally unaware of their circumstances.
Sorry for making you cry on a Monday at all.
Gwen lives in Colorado Springs, CO. You can check out more of her work on her website and blog.
(Thanks, Ann, for the find!)
Comments are now closed.