Anyone remember those microwave cakes from the '80s where you'd stir some water into the bag of cake mix, pop it in the microwave bundt pan, and "bake" it in the microwave in just a couple minutes? I LOVED THOSE THINGS… not so much for the taste, but because they were the perfect entertainment for a kid who wanted to pretend like she was cooking but whose mother perhaps didn't trust her with a power mixer and hot oven.
PupCakes 2 Go are little microwave cakes for dogs and were voted Best New Product for 2010 at the Global Pet Expo. It's easy to see why — they're super easy and fun to make, inexpensive, and made from organic, wholesome ingredients (wheat, soy, and preservative-free at that). Melinda from Lucky Paws, the makers of PupCakes, sent me a couple boxes to try, and I relived a little '80s fun whipping up a batch for Mingus and Dottie yesterday afternoon.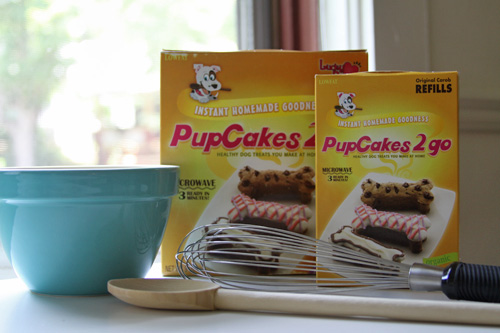 With PupCakes, all it takes to become a canine pastry chef extraordinaire is a little water, a little peanut butter, and a microwave. The powdered mix smells really good, just like cinnamon, and the PupCakes really do look and smell like real cakes when they come out of the microwave after a magical two and a half minutes. I was even tempted to try a tiny piece, and, well, they kind of tasted like those microwave cakes from the '80s. But hey, they're not made for humans, they're for dogs. And the dogs? LOVED them.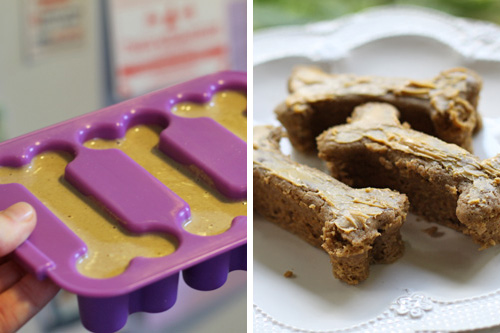 And that preshy little purple tray? It's reusable with PupCakes' refill mixes. LOVE IT.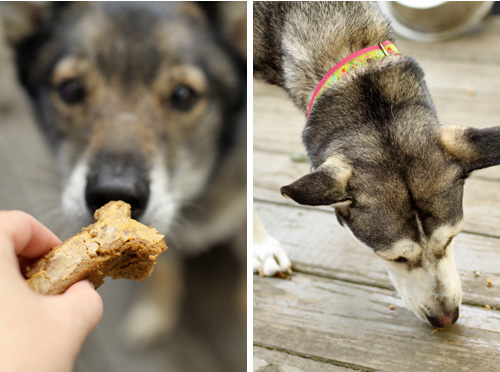 To find out how to get your paws on some PupCakes 2 Go, check out Lucky Paws' website.
Comments are now closed.