Y'all, no doubt, know Barkwheats because, well, we've featured them here before, and because our good pal Abby McMillen's art is featured on their (adorbs) packaging. Makers of wholesome, grain-free treats for dogs, Barkwheats buys their ingredients from local organic farmers in Maine, utilize wind energy for production, and employ 100% compostable materials in their packaging.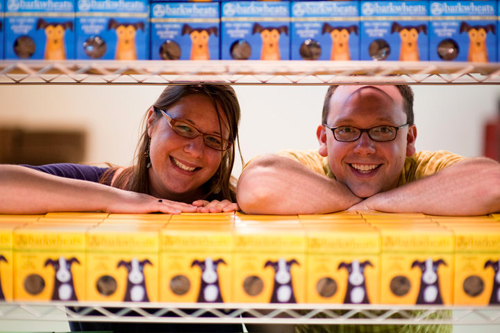 Barkwheats was born in 2007 as a little homespun operation and already has grown into a successful business with nationwide distribution. Barkwheats has grown so much, however, that their current baking equipment can't keep up with demand. They're running a campaign through Kickstarter to try to raise enough money for a new biscuit moulder. This new biscuit moulder a) sounds like something I want in my kitchen and b) would increase Barkwheats' production by, like, a million (or basically a whole lot).
Check out Barkwheats' Kickstarter page to find out more about this awesome company and how you can help.
Comments are now closed.