Picture this: young me (I was cute) at a church picnic, spying the dessert table from across the room, running with unbridled glee (while wiping drool) towards a what I think is a giant vanilla cake, then skidding to a stop in horror when I get close enough to realize it's not vanilla, it's… COCONUT. Bleaughh.
Coconut. Aside from an umbrella drink here and there, can't stand the stuff. But apparently it's, like, totally super healthy for both humans and dogs. Not coconut cake, of course… but 100% raw, virgin coconut oil. Apparently it's a fatty acid, but the good kind, and in dogs, it's been shown to help with weight loss, metabolism, energy, skin and coat, and digestion. It's also a huge immune-system booster and is a natural anti-bacterial, anti-fungal, and anti-oxidant. Kind of makes me feel bad about being so anti-coconut as a kid.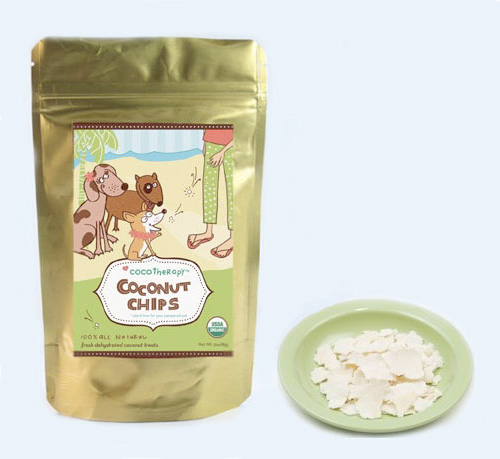 Dehydrated coconut carries the same health benefits as the oil, making these 100% pure organic coconut chips from CocoTherapy something I'm definitely curious to try with my beasts. After reading about the health benefits of coconut for dogs, I'm totally on the coconut boat. And who knows? Maybe I'll even try one myself.
You can fetch CocoTherapy Coconut Chips online at Fun Dog Fred (or check CocoTherapy's site for stores).
Comments are now closed.