Yippee! It's time to announce the winners of our Laughing Leash giveaway!
First, super big, sloppy thanks to Laughing My Tail Off for sponsoring this great giveaway. If you're not one of our lucky winners, you can scurry on over there and order one of these great leashes right now.
And now… without further ado… another picture of Dottie modeling the leash, because she's so cute.
(Winners after the photo)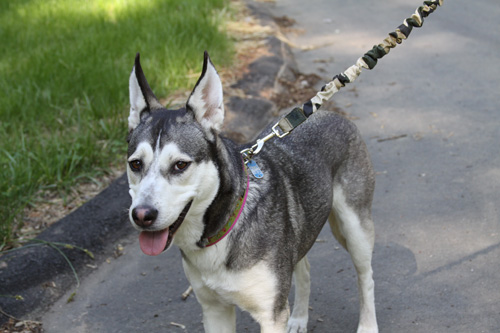 For the extra small leash, our random-drawing winner is:
Caroline K – whose dog Luke causes a scene if he doesn't get to go into the dog shop on his walks.
For the small/medium leashes, our random-drawing winners are:
gingela5 – whose dog Sadie hopes to explore the world beyond the neighborhood with the Laughing Leash, and
Anita – whose dog loves walks to the farmer's market, where she scores lots of free treats.
Thanks again to all who entered, and especially to Laughing My Tail Off!
Comments are now closed.