This past Sunday was phetched.com's one-year anniversary, and I'd like to send out a HUGE thank you and lots of hugs and kisses to all of YOU GUYS, the readers, who've made this past year super fun and exciting. (Brief pause, as a single tear rolls down my cheek.)
To help show my gratitude to all of you for tuning in every day, I've got a SUPER GINORMOUS giveaway for you sponsored by Bozeman, MT painter Abby McMillen, creator of the adorable and winsome Folk Dogs.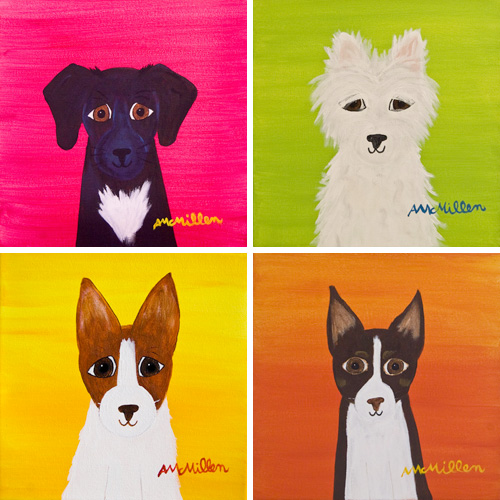 Abby's going to do a commissioned Folk Dog painting of a lucky phetched.com reader's dog!!
Yes, you read that correctly. The winner of this giveaway gets an original 10×10″ painting of their dog in acrylic on gallery canvas, painted by the one, the only Abby McMillen. I've been about to bust a gut over this one for MONTHS now, but I did it! I kept the secret! Until today! When you finally get to enter to win!
Find out how to enter after the jump!
—-
If you're our winner, you'll need to provide adequate photographs by email of your dog for Abby to paint a Folk Dog version of your furry pal. (For those of you with multiple dogs, this contest is for a painting of just one dog, but you're allowed to enter each of your dogs separately.)
How to enter
1. Comment on this post telling us the best thing that's happened to your pup in the past year. (My pups would probably say my starting this blog is the best thing for them, as they've gotten to sample lots of treats and toys and the like.) Note: You may post separate comments for up to 3 dogs. So, if you have two dogs, you can post two "best things." If you have three or more dogs, you can post three "best things." Please be honest. Yes, you could make up a fake dog to earn more entries, but karma will seriously burn you if you do that. Seriously.
2. For one more extra entry, become a fan of Folk Dogs on Facebook (or "like" Folk Dogs on Facebook, as the case may be) and leave a SEPARATE comment saying you've done so. If you are already a fan of Folk Dogs on Facebook, leave a comment to that effect.
3. That's it!
Entries will be accepted until 8:00 p.m. Eastern time on Sunday, April 25th. A random entry will be drawn at that time, and the winner will get instructions via email on how to send your photos to Abby and get your painting!
Please, up to four entries only per person, as described above. Winner will need to have a U.S. or Canada shipping address.
Comments are now closed.