Happy Day After Pi Day, everybody! How shall we celebrate? How about… a giveaway? GREAT idea.
This week's giveaway is sponsored by the nice folks over at DesignerDoggy. DesignerDoggy features some of the best dog products out there, from snazzy dog carriers to imaginative and interactive toys to this awesome dog bed shaped like a sports car. And our wonderful DesignerDoggy friends are giving away a Wegman Crypton Doodle bed to one lucky phetched reader! Huzzah!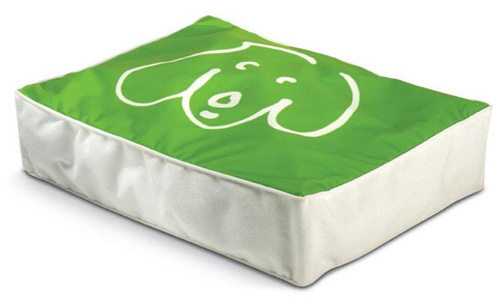 The Doodle bed features a design by the famous William Wegman and is made of superpowered Crypton fabric, which, as you know, is stain-resistant, odor-resistant, and moisture-resistant… yet still machine-washable.
How can you win a Crypton Doodle bed for your pup? It's easy:
1. Go here and select the size and color of bed you'd like to win.
2. Post that information in a comment below, being sure to leave your accurate email address in the comment form so you can be contacted if you win.
3. For an extra entry, become a fan of phetched on Facebook, and leave a separate comment below saying you've done so. If you're already a fan, awesome! Just leave a comment letting us know.
4. For another extra entry, tweet a link to this here contest, and post a link to your tweet in a comment below. (You can get a link to a tweet by clicking on the tweet's time stamp.)
5. Hold your breath and wait till Friday, March 19th at 8:00 p.m. Eastern time, when we'll draw one random winner from all the entries. The winner will be announced right here on phetched on Saturday, March 20th.
Due to customs issues, this contest is only open to U.S. shipping addresses. Sorry! And please, only 1 entry per person, except as described above.
Comments are now closed.